epic

ep·ic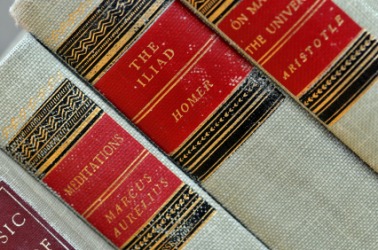 The Iliad is an example of an epic poem.
adjective
The definition of epic is something that refers to a heroic story or something that is heroic or grand.

An example of epic is a big production movie with story sequels such as the Star Wars series.
noun
An epic is defined as a story or long poem telling the tale of a fictional or historical hero.

An example of epic is Milton's Paradise Lost.
---
epic
a long narrative poem in a dignified style about the deeds of a traditional or historical hero or heroes; typically,

a poem like the Iliad or the Odyssey, with certain formal characteristics (beginning in medias res, catalog passages, invocations of the muse, etc.)
a poem like Milton's Paradise Lost, in which such characteristics are applied to later or different materials

called

art epic

or

literary epic

a poem like Beowulf, considered as expressing the early ideals and traditions of a people or nation

called

folk epic

or

national epic

any long narrative poem regarded as having the style, structure, and importance of an epic, as Dante's Divine Comedy
a prose narrative, play, film, etc. regarded as having certain qualities of an epic, as great length, a wide variety of characters and incidents, serious themes, etc.
a series of events regarded as a proper subject for an epic
Origin of epic
Classical Latin
epicus
from Classical Greek
epikos
, (adj.) epic from
epos
, a word, speech, song, epic from Indo-European an unverified form
wekwos-
, word from base an unverified form
wekw-
, to speak from source Classical Latin
vox
, Old English
woma
, noise
of an epic
having the nature of an epic; specif.,

heroic; grand; majestic; imposing
dealing with or characterized by events of historical or legendary importance
---
epic
noun
An extended narrative poem in elevated or dignified language, celebrating the feats of a legendary or traditional hero.
A literary or dramatic composition that resembles an extended narrative poem celebrating heroic feats.
A series of events considered appropriate to an epic: the epic of the Old West.
adjective
Of, constituting, having to do with, or suggestive of a literary epic: an epic poem.
Surpassing the usual or ordinary, particularly in scope or size: "A vast musical panorama … it requires an epic musical understanding to do it justice" ( Tim Page )
Heroic and impressive in quality: "Here in the courtroom … there was more of that epic atmosphere, the extra amperage of a special moment" ( Scott Turow )
Origin of epic
From
Latin
epicus
from
Greek
epikos
from
epos
word, song
; see
wekw-
in Indo-European roots.
Related Forms:
---
epic

Origin
From Middle French épique, from Latin epicus, from Ancient Greek ἐπικός (epikos), from ἔπος (epos, "word, story").
Initialism
(computing) Explicitly Parallel Instruction Computing.
(electronics) Etched and Polycrystalline carried IC.
(electronics) Epitaxial Integrated Circuit.
(law) Estates and Protected Individuals Code.
---
epic - Computer Definition
(Explicitly Parallel Instruction Computing) The parallel architecture used in Intel's IA-64 chips. It was originally developed by HP. See IA-64.
---