noun
The definition of a banquet is an elaborate dinner, usually for the purpose of celebration.

A dinner honoring the recipient of an award and a fancy meal for graduating high school seniors are each an example of a banquet.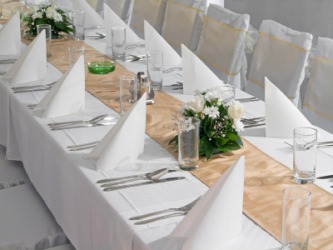 A table set in preparation for a banquet.
---
banquet definition by Webster's New World
noun
an elaborate meal; feast
a formal dinner for many people, usually with toasts and speeches
Origin: Late Middle English banket ; from Middle French banquet ; from OIt banchetto, diminutive of banca: see bank
transitive verb
to honor with a banquet
intransitive verb
to dine at a banquet
Webster's New World College Dictionary Copyright © 2010 by Wiley Publishing, Inc., Cleveland, Ohio. Used by arrangement with John Wiley & Sons, Inc.
---
banquet definition by American Heritage Dictionary
noun
An elaborate, sumptuous repast.
A ceremonial dinner honoring a particular guest or occasion.
tr. & intr.v.
ban·quet·ed
,
ban·quet·ing
,
ban·quets
To honor at or partake of a banquet.
Origin: Old French, diminutive of banc, bench; see bank3.
Related Forms:
Word History:
The linguistic stock of the word
banquet
has been fluctuating for a long time. The Old French word
banquet,
the likely source of our word, is derived from Old French
banc,
"bench," ultimately of Germanic origin. The sense development in Old French seems to have been from "little bench" to "meal taken on the family workbench" to "feast." The English word
banquet
is first recorded in a work possibly composed before 1475 with reference to a feast held by the god Apollo, and it appears to have been used from the 15th to the 18th century to refer to the feasts of the powerful and the wealthy. Perhaps this association led a 19th-century newspaper editor to label the word "grandiloquent" because it was being appropriated by those lower down on the social scale.