housekeeping
house·keep·ing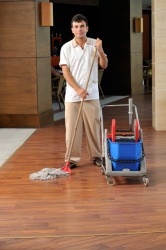 This man is part of a hotel's housekeeping staff.
noun
The definition of housekeeping is doing basic cleaning tasks in a house, hotel or other locations, or the department of employees who manage and perform cleaning tasks.

An example of housekeeping is the cleaning of your bathroom.
An example of housekeeping is the maid in the hotel who cleans rooms.
---
housekeeping
the work of a housekeeper
the department or staff at a hotel or motel responsible for cleaning guest rooms and public areas, changing linens, etc.
internal management of affairs, as of a business
---
housekeeping
noun
Performance or management of household tasks.
Management and maintenance of the property of an institution or organization.
Routine tasks and procedures carried out in the functioning of an operation or system.
A department in a hotel or institution that is in charge of cleaning and minor maintenance.
Related Forms:
---
housekeeping

Noun
(countable and uncountable, plural housekeepings)
The chores of maintaining a house as a residence, especially cleaning.
Any general tasks that involve preparation.

The computer program does some general housekeeping involving initializing variables and opening files before beginning the main processing.

Hospitality; a liberal and hospitable table; a supply of provisions.
---
housekeeping - Computer Definition
---