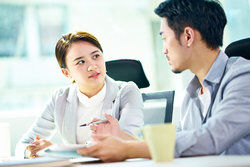 Assessing your own work performance can be difficult, but a self-evaluation is a good way to communicate with your employer. It's also a great way to reflect on your own strengths and weaknesses. Remember to be both authentic and positive in your report. A strong evaluation structure can help you assess any performance period, no matter what job you have.
General Self-Evaluation Format
Self-evaluation criteria can vary by industry, but the basic categories remain the same. Here are a few self-appraisal sections you can apply to any profession.
Accomplishments for the Period
Listing your accomplishments first sets a positive tone for the rest of your self-evaluation. Be specific by listing applicable numbers and data.
This is a section where you can talk about your strengths and how they help you succeed in your job – and how you help your company. Don't forget to mention how you've achieved any goals set from the previous period and how you've developed professionally since your last evaluation.
What didn't work as well for you during this period? Avoid cliches like "I work too hard" or "I'm a perfectionist." You can be authentic here; it's a good place to discuss any opportunities for growth. Is there anything you could have done differently to achieve better results?
Priorities and Goals for the Next Period
State your priorities for the next performance period. This should be a way to use your strengths to address your weaknesses. Your goals should include ways to reach the targets that you did not achieve in the Areas for Improvement section, as well as innovative ideas to improve yourself professionally.
This is a key opportunity to ask for resources that you need to accomplish your goals. Any professional development, funding, personnel, or leadership needs can go here. The section enables you to avoid complaining or making excuses in other sections. If your requests are reasonable, chances are that management will at least consider them going forward.
Examples of Industry Self-Evaluations
Now that you've seen a general self-evaluation structure, you can apply it to any industry. Read the self-assessment examples for marketing, nursing, teaching, and hospitality jobs to see how you can apply the format to your own profession.
Marketing: Online Marketing
Technological advances and changes in customer demand keep online marketing teams busy. They use SEO (Search Engine Optimization) to bring users to their website, where they only have around 15 seconds to convert that user into a customer. Here is an example of how a member of an online marketing team may complete a self-assessment.
Accomplishments: I've had several achievements in both customer acquisition and customer retention in the last year. My team has cut customer acquisition costs by 32% and raised customer retention to 25%. I have also followed our company's strategic vision by diversifying the traffic that comes to our site with my new social media campaign.
Areas for Improvement: This year, I have struggled with maintaining our site's SEO. Our competitive analysis and keyword research were helpful but ultimately did not lead to additional traffic.
Priorities and Goals for the Next Period: I hope to use our improved customer retention to improve brand strategy as part of our strategic vision. Additionally, I'd like to add more thematic URLs to the site to address our SEO.
Feedback for Management: A larger and more robust team could help us meet our goals when it comes to SEO and the sales pipeline. Weekly meetings with the sales team would be helpful as well. I am also interested in taking a class in SEO writing to increase my understanding of content wording and customer conversion rates.
Nurses must be prepared, compassionate, communicative, and reactive. There is little time to waste when lives are at stake. A nurse's self-evaluation is especially important in an industry that changes frequently but depends on a strong knowledge base.
Accomplishments: This year, I have applied my knowledge of anatomy and physiology to better manage patient pain. I have maintained the ethics and principles of nursing in my bedside manner. My experience helps me complete formal and informal mental health assessments, leading to more accurate care experience. The results of this year's post-visit survey report that 80% of my patients are very satisfied with their level of care.
Areas for Improvement: I continue to work on my communication with patient families, particularly in cases when the patient refuses care. I struggle with over-communicating vital signs to families, leading to additional stress for non-emergency updates. Converting to the new medical chart system has also been a difficulty for me this year.
Priorities and Goals for the Next Period: Next year, I will try to communicate with families in a way that keeps them informed but does not worry them unnecessarily. My goal for next year is to have at least 90% of my patients very satisfied with their level of care.
Feedback for Management: I would appreciate another training session on the new chart system, as I feel I could be more efficient if I am able to chart more quickly. I have felt very supported by the medical staff this year, and it has been very beneficial to work with Dr. Blake in particular.
Teaching: Biology Teacher
Administrative assessments are a part of every teacher's life. But, the ability to assess one's own performance allows a teacher to reflect on what is working, what is not working, and the most effective ways to improve. A teacher's self-evaluation should include ways to improve performance for select groups, especially English learners and struggling readers.
Accomplishments: My accomplishments for this school year are in both curriculum integration and student achievement. During the summer, I participated in the district NGSS training and successfully brought much of the curriculum to my biology classroom. In particular, our Genetics Fair was a huge success and a fun community event. The results of this benchmark period show that my English learners improved by 10 points, while the rest of the class improved by 15 points.
Areas for Improvement: I struggle with transitioning from a teacher-led lecture format to a student-led collaborative classroom. I have tried to integrate more flipped classroom activities, but the lack of technology in many students' classrooms kept them from accessing the resource at home. My students' homework rates are also low, though their classwork rates are high. I attribute this to the complexity of the new curriculum.
Priorities and Goals for the Next Period: I plan to collaborate with the English department and integrate Socratic seminars into my classroom. I believe a structured discussion of complex topics will be beneficial for all students, especially English learners. If they understand the curriculum more in class, their homework rates should improve. My goal for benchmark improvement in the next trimester is 15% for English learners and 20% for the mainstream students.
Feedback for Management: The interdepartmental collaboration has been very successful, in my opinion. I have enjoyed incorporating math and language arts into my science lessons. I would love to take my students on a field trip to the Natural History Museum in an upcoming unit as well.
Hospitality: Hotel Concierge
The hospitality industry must create the best experience possible for customers who may not be the most courteous in return. Below is an example of a hotel concierge's self-evaluation as she strives to balance quality customer service with the time-sensitive needs of a hotel.
Accomplishments: In the last quarter, I have assisted more than 300 hotel guests with different needs. Of these customers, nearly 40% have booked a second stay with the hotel in the next year. I have also improved my customer service skills by attending a hotel management conference. My customer satisfaction rates are consistently over 75%.
Areas for Improvement: I have had some difficulty with delegating duties to other members of the front desk department. Often, I find myself assisting a guest through all the steps from problem to solution, which is not the best use of my time. I could assist more customers if I allowed the front desk agents to complete some of these tasks.
Priorities and Goals for the Next Period: I hope to have an even more thorough knowledge of restaurants and tourist attractions in our area, and to create a helpful reference pamphlet for guests. Additionally, I hope to raise my customer satisfaction rates to at least 80%.
Feedback for Management: I really appreciated the housekeeping training we had last month and the new valet parking procedures. In the future, I'd like more regular check-ins with the general manager to ensure that I am meeting my goals in a timely manner.
Writing Your Own Self-Evaluation