noun
The definition of a receptionist is a person who works at an office who greets visitors, answers the phones, routes calls and takes messages.

A person in an office who sits at the front desk of a law office, greets clients, answers phones and connects phone calls to the lawyers and other legal staff is an example of a receptionist.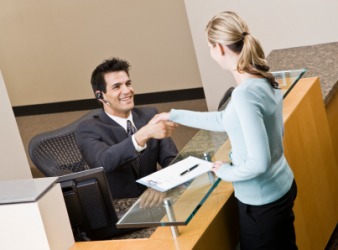 A receptionist greets a businesswoman.
---
receptionist
noun
a person employed in an office to receive callers, give information, etc.
---
receptionist
---
receptionist
Noun
(countable and uncountable, plural receptionists)
An employee who receives visitors and/or calls, typically in an office setting.
A secretary whose tasks prominently include the above.
---