motel

mo·tel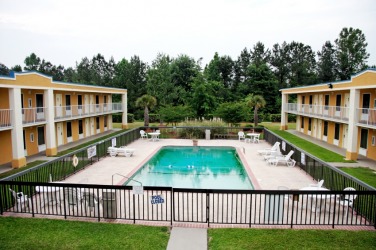 A modern motel.
noun
The definition of a motel is a convenient, temporary sleeping place for people traveling by car.

An example of a motel is a Super 8.
---
motel
a hotel intended primarily for those traveling by car, usually with easy access from each room to a parking area
Origin of motel
mo(tor) + (ho)tel: coined (1925) by A. S. Heineman, United States architect, for an inn in San Luis Obispo, Calif.
---
motel
noun
An establishment that provides lodging for motorists in rooms usually having direct access to an open parking area. Also called motor lodge .
Origin of motel
Blend of
motor
hotel
---
motel

Noun
(plural motels)
A lodging establishment typically featuring a series of rooms whose entrance is immediately adjacent to a parking lot, as might facilitate easy access to one's automobile during an overnight stay, particularly located near a major highway.
(as a modifier; used attributively) Of architecture, interior design, etc, in the style of a motel; identical and anonymous.
Adjective
(not comparable)
Any of several architectural or interior design styles associated with motels, such as "identicalness", "anonymity", or any other perceived attribute of motels, particularly as differentiated from hotels.
Characterized by an anonymous, temporary nature, as motel sex.
---