motor court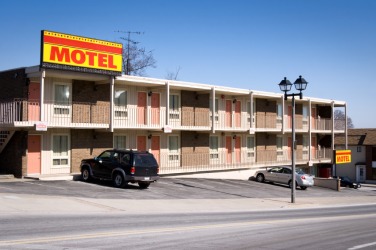 A motor court.
noun
The definition of a motor court is a motel.

An example of a motor court is an inexpensive place where people stay while on vacation.
---
motor court
---
motor court
Variant of court
noun
an uncovered space wholly or partly surrounded by buildings or walls; courtyard
a special section or area of a building, as a museum, somewhat like such a space but roofed, as with a skylight

a short street, often closed at one end

a specially prepared space, usually quadrangular and often enclosed and roofed, for playing any of several games, as basketball, handball, tennis, or squash
any of the divisions of such a space

a mansion or manor with a large, uncovered entrance area: now used only in proper names: Hampton Court
☆ a motel

the palace of a sovereign
the family, advisors, and attendants of a sovereign, considered as a group
a sovereign together with councilors, ministers, etc. as a governing body
any formal gathering, reception, etc. held by a sovereign

respectful or flattering attention paid to someone in order to get something
courtship; wooing

Brit.

the board of directors of a corporation

a person or persons appointed to try law cases, make investigations, etc.; judge or judges; law court
a building or hall where trials are held, official investigations made, etc.
a judicial assembly, whether civil, ecclesiastical, or military; also, a regular session of such an assembly
Origin of court
Old French ; from Vulgar Latin
curtis
; from Classical Latin
cohors
(gen.
cohortis
), enclosed place: see cohort
transitive verb
to pay respectful or flattering attention to (a person) in order to get something
to try to get the love of; seek as a mate; woo
to try to get; seek: to court success
to make oneself open or liable to: to court insults
intransitive verb
to carry on a courtship; woo
adjective
of or fit for a court
in one's court
in one's side of the court, as a ball in a tennis game
under one's control, as a decision to be made
out of court
without a trial in a law court
not important enough for consideration or examination
pay court to
to court, as for favor or love