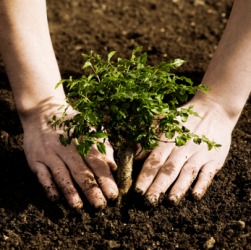 A new tree embedded in the earth.
verb
To embed is defined as to plant something deeply or firmly, either literally or figuratively.

An example of embed is when you firmly plant an idea in another person's head.
An example of embed is when you put a stick very firmly and deeply into the ground.
---
embed
transitive verb
-·bed′ded

,

-·bed′ding
to set (flowers, etc.) in earth
to set or fix firmly in a surrounding mass: to embed tiles in cement
to fix in the mind, memory, etc.

Comput.

to insert (an identification code, a virus, a routine for monitoring access, etc.) into a software program
to assign (an observer) to a group engaged in some activity: to embed journalists with a combat unit
a person who has been embedded
---
embed
also im·bed
verb
em·bed·ded, em·bed·ding, em·beds,
also
im·bed·ded
or
im·bed·ding
or
im·beds
verb
transitive
To fix firmly in a surrounding mass: embed a post in concrete; fossils embedded in shale.

a. To cause to be an integral part of a surrounding whole: "a minor accuracy embedded in a larger untruth" ( Ian Jack )

b. Linguistics To insert or position (a clause or phrase) within a clause or phrase.

c. Computers To insert (a virus, for example) into a software program.

To assign (a journalist) to travel with a military unit during an armed conflict.
Biology To enclose (a specimen) in a supporting material before sectioning for microscopic examination.
verb
intransitive
To become embedded: The harpoon struck but did not embed.
noun
One that is embedded, especially a journalist who is assigned to an active military unit.
Related Forms:
---
embed

Verb
(third-person singular simple present embeds, present participle embedding, simple past and past participle embedded)
To lay as in a bed; to lay in surrounding matter; to bed; as, to embed a thing in clay, mortar, or sand.
(by extension) To include in surrounding matter.

We wanted to embed our reporter with the Fifth Infantry Division, but the Army would have none of it.

(computing) To encapsulate within another document or data file (unrelated to the other computing meaning of embedded as in embedded system).

The instructions showed how to embed a chart from the spreadsheet within the wordprocessor document.

(mathematics) To define a one-to-one function from (one set) to another so that certain properties of the domain are preserved when considering the image as a subset of the codomain.

The torus can be embedded in .
Noun
(plural embeds)
An embedded reporter/journalist: a war reporter assigned to and travelling with a military unit.
(computing) An item embedded in another document.
---
embed - Computer Definition
To insert into. To enclose. For example, "embedded JavaScript" means that the JavaScript code is inserted into an HTML-coded Web page. An embedded system is a computer built into and specialized for a particular product rather than a general-purpose desktop or laptop machine. See embedded system, microcontroller and JavaScript.
---