adaptation

ad·ap·ta·tion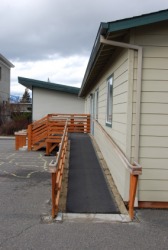 This wheelchair ramp is an adaptation to this house.
noun
The definition of an adaptation is a change or adjustment to improve something, or to make it suitable to a different situation.

A wheelchair ramp built into a mini van is an example of an adaptation.
---
adaptation
an adapting or being adapted
a thing resulting from adapting: this play is an adaptation of a novel
a change in structure, function, or form that improves the chance of survival for an animal or plant within a given environment
the natural reactions of a sense organ to variations in the degree of stimulation

Sociology

a gradual change in behavior to conform to the prevailing cultural patterns
Origin of adaptation
French from Medieval Latin
adaptatio
: see adapt
---
adaptation
noun
a. The act or process of adapting.

b. The state of being adapted.

a. Something, such as a device or mechanism, that is changed or changes so as to become suitable to a new or special application or situation.

b. A composition that has been recast into a new form: The play is an adaptation of a short novel.

Biology

a. Change or adjustment in structure or habits by which a species becomes better able to function in its environment, occurring through the course of evolution by means of natural selection.

b. A structure or habit that results from this process.

Physiology The responsive adjustment of a sense organ, such as the eye, to varying conditions, such as light intensity.
Change in behavior of a person or group in response to new or modified surroundings.
Related Forms:
ad′ap·ta′tion·al

adjective
ad′ap·ta′tion·al·ly

adverb
---
adaptation

Noun
(countable and uncountable, plural adaptations)
(uncountable) The quality of being adapted; adaption; adjustment.
(uncountable) Adjustment to extant conditions: as, adjustment of a sense organ to the intensity or quality of stimulation; modification of some thing or its parts that makes it more fit for existence under the conditions of its current environment.
---