noun
Don is defined as a Spanish title used to refer to a gentleman, or is a term used to describe a leader in an organized-crime family.

An example of Don is the title used to refer to a Spanish gentleman.
The head of a large branch of the Mafia family is an example of the don.
verb
To don is defined as to put on a piece of clothing.

When you put a hat on, this is an example of when you don a hat.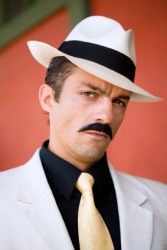 A Mafia don.
---
Don definition by Webster's New World
noun
a distinguished man

Brit.

a head, tutor, or fellow of a college or university, esp. at Oxford or Cambridge
an important Mafia leader
Origin: Spanish ; from Classical Latin domnus, contr. ; from dominus, master: see dominate
noun
Sir; Mr.: a Spanish title of respect, used with the given name: abbrev. D: Don Pedro
a Spanish nobleman or gentleman
river in SC European Russia, flowing southward into the Sea of Azov: c. 1,200 mi (1,931 km)
Origin: Russ: see Danube
Webster's New World College Dictionary Copyright © 2010 by Wiley Publishing, Inc., Cleveland, Ohio. Used by arrangement with John Wiley & Sons, Inc.
---
Don definition by American Heritage Dictionary
noun
Don also Abbr. D. Used as a courtesy title before the name of a man in a Spanish-speaking area.
Chiefly British

a. A head, tutor, or fellow at a college of Oxford or Cambridge.

b. A college or university professor.

The leader of an organized-crime family.
Archaic An important personage.
Origin: Spanish dialectal and Italian, both from Latin dominus, lord; see dem- in Indo-European roots.
transitive verb
donned
donned
,
don·ning
,
dons
To put on (clothing).
To assume or take on: donned the air of the injured party.
Origin: Middle English, contraction of do on, to put on; see do 1.
Don
Variant of don
noun
a distinguished man

Brit.

a head, tutor, or fellow of a college or university, esp. at Oxford or Cambridge
an important Mafia leader
Origin: Spanish ; from Classical Latin domnus, contr. ; from dominus, master: see dominate