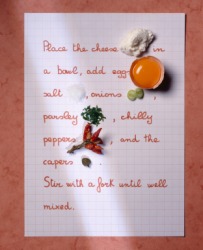 There are just enough eggs for this recipe.
adjective
The definition of enough is something that is just what you need and nothing more.

An example of enough is having enough eggs when making a recipe that needs two eggs because you have exactly two eggs in the refrigerator.
adverb
Enough is defined as having done something adequately or sufficiently.

An example of enough is the phrase playing well enough, when someone plays a game well, but doesn't win by a lot of points.
noun
Enough means as many as you need or are allowed.

An example of enough is the expression meaning you have all that you need or want, "That's enough."
---
enough
as much or as many as necessary, desirable, or tolerable; sufficient
Origin of enough
Middle English
inough
from Old English
genoh
from Germanic compound (seen also in German
genug-
, Old Norse
gnogr
, Gothic
ganohs
) from
ge-
, intensive + an unverified form
noh
, enough from Indo-European base an unverified form
enek-
, an unverified form
nek-
, to attain, achieve from source Classical Latin
nactus
, attained, Sanskrit
nák?ati
, (he) attains
the amount or number needed, desired, or allowed; sufficiency
as much or as often as necessary; to the required degree or amount; sufficiently
fully; quite: oddly enough
just adequately; tolerably; fairly: he played well enough
enough said
Informal
no further explanation or discussion is needed
---
enough
adjective
Sufficient to meet a need or satisfy a desire; adequate:
enough work to keep us all busy.
See Synonyms at
sufficient
.
pron.
An adequate number or quantity: "The Gods above should give, / They have enough and we do poorly live" ( Henry David Thoreau )
adverb
To a satisfactory amount or degree; sufficiently: Is the fish cooked enough?
Very; fully; quite: We were glad enough to leave.
Tolerably; rather: She sang well enough, but the show was a failure.
interjection
Used to express impatience or exasperation: You've been practicing the guitar all afternoon. Enough!
Origin of enough
Middle English
enogh
from
Old English
genōg
; see
nek-
2
in Indo-European roots.
---
enough

Adverb
Sufficiently.

I cannot run fast enough to catch up to them.

Fully; quite; used to express slight augmentation of the positive degree, and sometimes equivalent to very.

He is ready enough to accept the offer.
Usage notes
As an adverb, enough always follows the verb it qualifies.
Pronoun
A sufficient or adequate number, amount, etc.

I have enough to keep me going.
Interjection
stop! Don't do that anymore, etc.

Enough!
Origin
From Middle English ynough, from Old English ġenōg ("enough"), from Proto-Germanic *ganōgaz ("enough") (compare Scots eneuch, West Frisian genôch, Dutch genoeg, German genug, Low German noog, Danish nok, Swedish nog, Icelandic nógur), from *ǥanaxa 'to suffice' (compare Old English ġeneah), or from *ga- + an unattested *nōgaz, probably ultimately from Proto-Indo-European *h₂eh₂nó(n)ḱe 'he has reached, attained', perfective of *h₂neḱ- ("to reach") (compare Old Irish tánaic 'he arrived', Latin nancisci 'to get', Lithuanian nèšti 'to carry', Albanian kënaq 'to please, satisfy', Ancient Greek ἐνεγκεῖν (enenkein, "to carry").).
---