adjective
The definition of comfortable is mind and body being at ease or someone that makes a person feel secure, happy or relaxed.

Sitting in a soft chair is an example of being comfortable.
Giving a really good hug is an example of a comfortable person.
A soft and plush chair is an example of comfortable furniture.
YourDictionary definition and usage example. Copyright © 2013 by LoveToKnow Corp.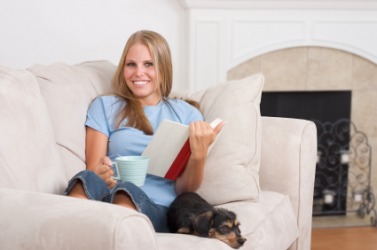 A woman sitting on a comfortable sofa.
Licensed from iStockPhoto
---
adjective
providing comfort or ease
in a state of comfort; at ease in body or mind; contented

Informal

sufficient to satisfy; adequate: a comfortable salary
Origin: Middle English ; from Midieval Latin confortabilis
noun
a quilted bed covering; comforter
Webster's New World College Dictionary
Copyright © 2010 by Wiley Publishing, Inc., Cleveland, Ohio.
Used by arrangement with John Wiley & Sons, Inc.
---
adjective
Providing physical comfort: a comfortable chair.
Free from stress or anxiety; at ease: not comfortable about the interview.
Producing feelings of ease or security: a comfortable person; a comfortable evening at home.
Sufficient to provide financial security: comfortable earnings.
Related Forms:
The American Heritage® Dictionary of the English Language
, 4th edition Copyright © 2010 by Houghton Mifflin Harcourt Publishing Company. Published by Houghton Mifflin Harcourt Publishing Company. All rights reserved.