comfortable
com·fort·a·ble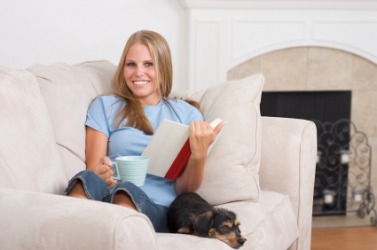 A woman sitting on a comfortable sofa.
adjective
The definition of comfortable is mind and body being at ease or someone that makes a person feel secure, happy or relaxed.

Sitting in a soft chair is an example of being comfortable.
Giving a really good hug is an example of a comfortable person.
A soft and plush chair is an example of comfortable furniture.
---
comfortable
providing comfort or ease
in a state of comfort; at ease in body or mind; contented

Informal

sufficient to satisfy; adequate: a comfortable salary
Origin of comfortable
Middle English from Medieval Latin
confortabilis
a quilted bed covering; comforter
---
comfortable
adjective
Providing physical comfort: a comfortable chair.
Free from stress or anxiety; at ease: not comfortable about the interview.
Producing feelings of ease or security: a comfortable person; a comfortable evening at home.
Sufficient to provide financial security: comfortable earnings.
Related Forms:
---
comfortable

---