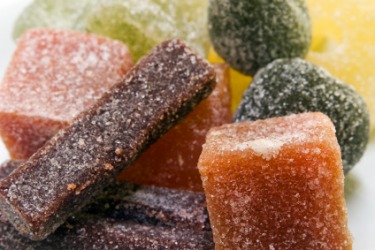 Comfits of candied fruit.
---
comfit definition by Webster's New World
noun
a candy or sweetmeat; esp., a candied fruit, nut, etc.
Origin: Middle English and amp; Old French confit, origin, originally , past participle of confire, to preserve ; from Classical Latin conficere: see confect
Webster's New World College Dictionary Copyright © 2010 by Wiley Publishing, Inc., Cleveland, Ohio. Used by arrangement with John Wiley & Sons, Inc.
---
comfit definition by American Heritage Dictionary
noun
A confection that consists of a piece of fruit, a seed, or a nut coated with sugar.
Origin: Middle English confit, from Old French, from Latin cōnfectum, thing prepared, neuter past participle of cōnficere, to prepare : com-, com- + facere, to make; see dhē- in Indo-European roots.