abundance

a·bun·dance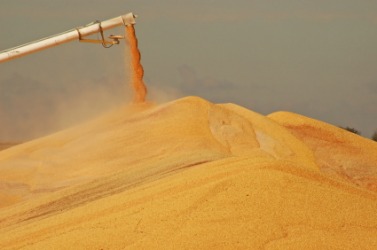 There is an abundance of corn here.
noun
The definition of abundance is to have a large amount of something, or to have wealth.

An example of abundance would be having a huge crop of corn for the year.
---
abundance
a great supply; more than sufficient quantity
great plenty; wealth
Origin of abundance
Middle English
aboundaunce
from Old French
abondaunce
from Classical Latin
abundantia
from present participle of
abundare
: see abound
---
abundance
noun
a. A great or plentiful amount: an abundance of rain.

b. The condition of being in rich supply: bananas growing in abundance.

a. Degree of plentifulness: "Species of low abundance are ignored in the calculation of predominance" ( William M. Lewis )

b. Chemistry The amount of an isotope of an element that exists in nature, usually expressed as a percentage of the total amount of all isotopes of the element.

Affluence; prosperity: living in abundance.
---
abundance

Usage notes
Synonym notes: Abundance, Plenty, Exuberance. These words rise upon each other in expressing the idea of fullness.

Plenty denotes a sufficiency to supply every want; as, plenty of food, plenty of money, etc.
Abundance express more, and gives the idea of superfluity or excess; as, abundance of riches, an abundance of wit and humor; often, however, it only denotes plenty in a high degree.
Exuberance rises still higher, and implies a bursting forth on every side, producing great superfluity or redundance; as, an exuberance of mirth, an exuberance of animal spirits, etc.
Origin
From Middle English abundaunce, habaundance, from Old French habundance , abondance, from Latin abundantia ("fullness, plenty"), from abundō ("to overflow"). See abound.
---