short

short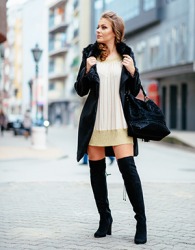 The model wore long boots to go with her short sweater dress.
adjective
The definition of short is something that is not long, that measures a minimal distance from one end to the other, or that does not last for a long time.

An example of short is a walk that lasts only five minutes.
An example of short is hair that doesn't even go to your neck.
An example of short is a skirt that doesn't come down to your knees.
An example of short is when you can pay attention only for a moment.
---
short
not extending far from end to end; not long or not long enough
not great in span, range, or scope: a short distance, journey, throw, view, etc.
low or relatively low in height; not tall

lasting only a little time; brief
passing quickly: a few short weeks

not retentive for long: a short memory
condensed or concise, as a literary style, story, speech, etc.
brief or abrupt to the point of rudeness; curt
quickly angered or irked
less than or lacking a sufficient or correct amount, amount of time, etc.: a short measure, short on money, short notice
not far enough to reach the mark, objective, etc.: the shot fell short
having a tendency to break or crumble; friable; specif.,

crisp or flaky, as pastry made from dough rich in shortening
brittle and inductile when cold (

cold short

) or hot (

hot short

): said of metal

designating a historical period considered in terms of a briefer duration than typically would be ascribed to it: "the short 20th century" (1914-2000) begins with WWI

not having in possession at the time of sale the commodity or security one is selling in anticipation of a decline in price
designating or of a sale of commodities or securities not in the possession of the seller

Phonet.

articulated for a relatively short time; brief in duration: said of a speech sound

popularly

not diphthongized [the short a in "pan"]

Prosody

requiring a relatively short time to pronounce: said of syllables in quantitative verse
unstressed: said of syllables in accentual verse
Origin of short
Middle English from Old English
scort
, akin to Old Norse
skort
, short piece of clothing, Old High German
scurz
, short from Indo-European an unverified form
(s)kerd-
from base an unverified form
(s)ker-
, to cut, shear from curt
something that is short; specif.,

a short sound or syllable, contrasted with one that is long
a film usually less than 30 min. in length
a fish or lobster below the size that may be legally taken
a shot that falls short of the target or objective

a variation of clothing size shorter than the average for that size

[usually pl.] short, loose trousers reaching partway to the knee, worn in sports, etc.
[pl.] men's undershorts

[pl.] items needed to make up a shortage or deficiency
[pl.] a byproduct of wheat milling that consists of bran, germ, and coarse meal
[pl.] trimmings, clippings, etc. left over in the manufacture of various products

shortstop
short circuit

one who has not yet covered the short sale of a stock, commodity, etc.
abruptly; suddenly
rudely; curtly
briefly; concisely
so as to be short in length
by surprise; unawares: caught short
by a short sale
to give less than what is needed, wanted, or usual
to take a short position in (a stock, commodity, etc.)

shortchange
short-circuit
for short
by way of abbreviation or contraction
in short
in summing up; to summarize
in a few words; briefly
run short
to have or be less than enough
short and sweet
agreeably or expeditiously brief
short for
being a shortened form of, or an abbreviation or nickname for
short of
not equaling; less than
without a sufficient or correct amount of; lacking
not far enough to reach (the mark, objective, etc.)
without actually resorting to
see (at nothing)
the short end of the stick
---
short
adjective
short·er, short·est
Having little length; not long.
Having little height; not tall.
Extending or traveling not far or not far enough: a short toss.

a. Lasting a brief time: a short holiday.

b. Appearing to pass quickly: finished the job in a few short months.

Not lengthy; succinct: short and to the point.

a. Rudely brief; abrupt: The owner was quite short with the new hire.

b. Easily provoked; irascible: has a short temper.

Inadequate; insufficient: oil in short supply; were short on experience.
Lacking in length or amount: a board that is short two inches.
Lacking in breadth or scope: a short view of the problem.
Deficient in retentiveness: a short memory.

a. Holding a trading position that is inversely related to the price of a security or index: short investors; an investor who is short gold.

b. Of or relating to a short sale: a short position.

a. Containing a large amount of shortening; flaky: a short pie crust.

b. Not ductile; brittle: short iron.

a. Linguistics Of, relating to, or being a speech sound of relatively brief duration, as the first vowel sound in the Latin word mălus, "evil," as compared with the same or a similar sound of relatively long duration, as the first vowel sound in the Latin word mālus, "apple tree."

b. Grammar Of, relating to, or being a vowel sound in English, such as the vowel sound (ă) in pat or (&oobrev;) in put, that is descended from a vowel of brief duration.

Being of relatively brief duration. Used of a syllable in quantitative prosody.
Slang Close to the end of a tour of military duty.
adverb
shorter, shortest
Abruptly; quickly: stop short.
In a rude or curt manner.
At a point before a given boundary, limit, or goal: a missile that landed short of the target.
At a disadvantage: We were caught short by the sudden storm.
By means of a short sale: selling a commodity short.
noun
Something short, as:

a. Linguistics A short syllable, vowel, or consonant.

b. A brief film; a short subject.

c. A size of clothing less long than the average for that size.

d. shorts Short pants extending to the knee or above.

e. shorts Undershorts.

a. A short sale.

b. One that sells short.

shorts A byproduct of wheat processing that consists of germ, bran, and coarse meal or flour.
shorts Clippings or trimmings that remain as byproducts in various manufacturing processes, often used to make an inferior variety of the product.

a. A short circuit.

b. A malfunction caused by a short circuit.

Baseball A shortstop.
verb
short·ed, short·ing, shorts
verb
transitive
To cause a short circuit in.
Informal To give (one) less than one is entitled to; shortchange.
To short-sell (a security or index).
verb
intransitive
To short-circuit.
Origin of short
Middle English
from
Old English
sceort, scort
; see
sker-
1
in Indo-European roots.
Related Forms:
---
short

---
short - Computer Definition
In programming, an integer variable. In C, a short is two bytes and can be signed (-32K to +32K) or unsigned (64K). Contrast with long.
---
short - Investment & Finance Definition
A synonym for sell, in contrast to long, in which a security has been purchased. It also may be used as a noun to refer to a trader who has sold financial instruments or contracts and thereby has a short (position).
---