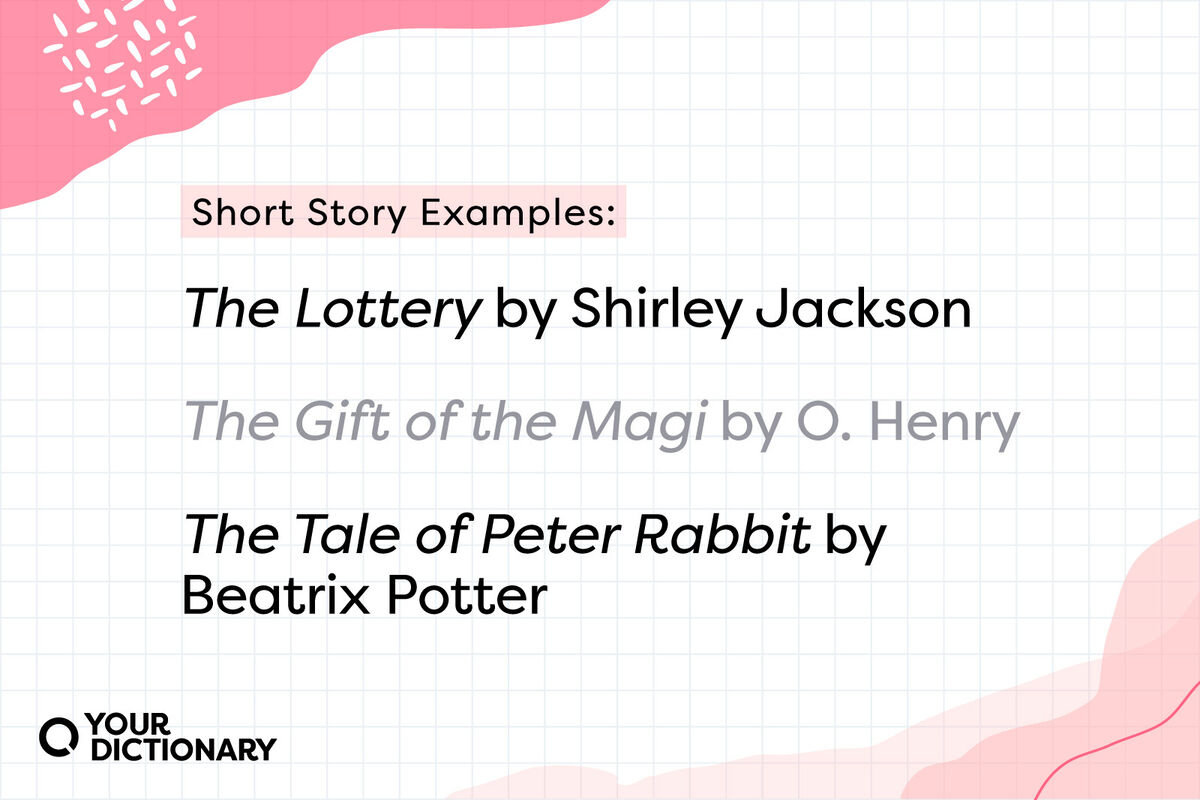 Stories are an accessible and universal means of escapism. But who's got time to read a lengthy novel these days? Short stories are self-contained stories that give you all the thrills, chills or charm of a full-length story in an abbreviated, accessible form.
What Makes a Great Short Story?
Unlike novels, short stories have a finite amount of time to tell a tale, introduce characters and themes, and tie it all together in a neat proverbial bow. While novels are 200-400 pages on average, short stories tell a complete story in 10,000 words or less. They also cut to the chase and establish and resolve conflict.
Iconic Examples of Short Stories for Adults
When you think of short stories, you might think of children's books. However, short stories are designed for all ages. Adult short stories deal with all the topics that full-length adult novels do, just in an abbreviated and easily digestible way.
The Fall of the House of Usher by Edgar Allan Poe
Explore an individual's fall into the abyss of insanity in Edgar Allan Poe's "The Fall of the House of Usher." Poe's poetic prose creates an air of suspense as he weaves the twisted tale of the House of Usher.
The Lottery by Shirley Jackson
In "The Lottery" by Shirley Jackson, tradition and community ties lead to deadly consequences when a woman is chosen in the eponymous lottery to be stoned to death.
The Gift of the Magi by O. Henry
"The Gift of the Magi" by O. Henry is a classic story with a powerful theme of love and giving. In just a few short pages, O. Henry creates sympathetic characters that the audience can relate to. This glimpse into their lives highlights both their power of character and the key themes of the story such as love, giving and sacrifice.
The Necklace by Guy de Maupassant
In "The Necklace" by Guy de Maupassant, the main character, Mathilde, has always dreamed of being an aristocrat but lives in poverty. Embarrassed about her lack of fine possessions, she borrows a necklace from a wealthy friend but loses it. The story is known for its subversive and influential twist ending.
The Yellow Wallpaper by Charlotte Perkins Gilman
"The Yellow Wallpaper" by Charlotte Perkins Gilman explores a woman's descent into madness after she's confined to a room with yellow wallpaper to help her nervous disorder. It is a groundbreaking short story that drew attention to mental health and women's rights when it was released and has influenced many writers, including Alice Walker and Sylvia Plath.
Additional Adult Short Stories
Reading some of these short stories can better acquaint you with the short story form and the challenges faced by authors to develop an interesting plot and detailed characters. Investigate a few additional popular examples of short stories.
Fun Children's Short Story Examples
Short stories for children often include fairy tales and fables. Many of these stories have morals or teach a lesson while also entertaining readers.
Goldilocks and the Three Bears by Robert Southey
A famous children's fable, "Goldilocks and the Three Bears" details the adventures of Goldilocks breaking into a bear family's house and eating all their porridge. It teaches the importance of respecting other people's property.
The Tale of Peter Rabbit by Beatrix Potter
The adventures of this rabbit are known worldwide. "The Tale of Peter Rabbit" by Beatrix Potter tells the story of a mischievous little rabbit who doesn't listen to his mother and goes through a heart-pounding chase with Mr. McGregor.
The Night Before Christmas by Clement Clarke Moore
Often on Christmas Eve, parents will read "'Twas the Night Before Christmas" (also known as "A Visit from St. Nicholas") by Clement Clarke Moore to their kids. While technically a poem, this text takes the form of a short story about Santa delivering presents around the world.
Goodnight Moon by Margaret Wise Brown
Routine is important, and "Goodnight Moon" by Margaret Wise Brown is a perfect way to introduce this concept to children. This classic bedtime story explores the routine of going to bed and telling all the world goodnight.
Where the Wild things Are by Maurice Sendak
The beloved picture book "Where the Wild Things Are" tells the story of a young boy named Max whose bedroom transforms into a jungle and he sails to an island inhabited by monsters called "The Wild Things." When the monsters fail to scare Max, they crown him the king of the Wild Things. This whimsical tale is the perfect short story to engage your child's imagination and carry them off to their own faraway lands.
Other Short Stories for Children
Children's picture books could all be considered short stories, and there are plenty of options to choose from.
Now that you have a grasp on short stories, why not write your own?