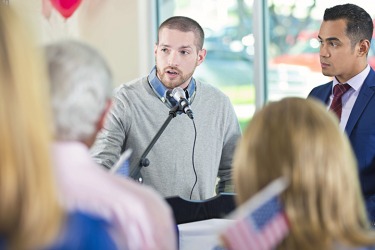 The speaker waited patiently while listening to the prolix introduction.
adjective
The definition of prolix is someone or something that is too wordy.

An example of something prolix is a long-winded introduction to a speaker; a prolix introduction.
---
prolix
so wordy as to be tiresome; verbose
using more words than are necessary; long-winded
Origin of prolix
Middle English
prolixe
from Classical Latin
prolixus
, extended, prolix from
pro-
, forth + base of
liquere
, to flow: see liquid
---
prolix
adjective
Tediously prolonged; wordy: editing a prolix manuscript.
Tending to speak or write at excessive length. See Synonyms at wordy.
Origin of prolix
Middle English
from
Old French
prolixe
from
Latin
prōlixus
poured forth, extended
Related Forms:
---
prolix

Origin
From Latin prōlixus ("courteous, favorable").
---