adjective
The definition of vacant is empty.

When an apartment is for rent and no one is living there, this is an example of an apartment that would be described as vacant.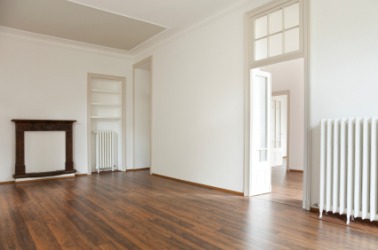 A vacant apartment.
---
vacant definition by Webster's New World
adjective
having nothing in it, as a space; devoid of contents; empty; void
not held, filled, or occupied, as a position or office
having no occupant: a vacant seat
untenanted, as a room or house
not filled with activity or work; free; leisure: vacant time

having or showing emptiness of mind or lack of intelligence, interest, thought, etc.
empty of thought: said of the mind

Law

unoccupied or unused, as land
having no claimant, as an estate or succession
not yet granted, as public lands
Origin: Old French ; from Classical Latin vacans, present participle of vacare, to be empty
Webster's New World College Dictionary Copyright © 2010 by Wiley Publishing, Inc., Cleveland, Ohio. Used by arrangement with John Wiley & Sons, Inc.
---
vacant definition by American Heritage Dictionary
adjective
Containing nothing; empty.
Without an incumbent or occupant; unfilled: a vacant position.
Not occupied or put to use: a vacant lot.
Law Not claimed by an heir: a vacant estate.

a. Lacking intelligence or knowledge: a vacant mind.

b. Lacking expression; blank: a vacant stare.

Not filled with any activity: vacant hours. See Synonyms at empty.
Origin: Middle English, from Old French, from Latin vacāns, vacant-, present participle of vacāre, to be empty; see euə- in Indo-European roots.
Related Forms:
The American Heritage® Dictionary of the English Language, 4th edition Copyright © 2010 by Houghton Mifflin Harcourt Publishing Company. Published by Houghton Mifflin Harcourt Publishing Company. All rights reserved.
---
vacant - Business Definition
Describing a property without an occupant. Also called
unoccupied
.