vacancy
va·can·cy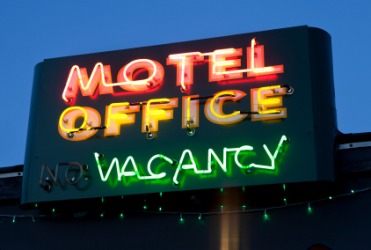 A motel vacancy sign.
noun
The definition of a vacancy is the state of being empty or available, or refers to an empty and unintelligent mind.

When a hotel has a room available that a guest can rent, this is an example of a vacancy.
When there is a job available at a company that needs to be filled, this is an example of a vacancy.
When a person is very dumb and knows nothing, this is an example of vacancy.
---
vacancy
pl.
-·cies
the state of being vacant, or empty; emptiness

empty space
a vacant space; gap, blank, opening, etc.

the state of being empty in mind; lack of intelligence, interest, or thought; vacuity

Now Rare

the state of being free from work, activity, etc.; idleness
an unoccupied position or office; unfilled post, situation, or job
untenanted quarters, as in a hotel

Physics

a lattice defect in a crystal due to a displaced or missing ion or atom
Origin of vacancy
Classical Latin
vacantia
; from
vacans
---
vacancy
noun
pl.
va·can·cies
The condition of being vacant or unoccupied.
An empty or unoccupied space.
A position, office, or place of accommodation that is unfilled or unoccupied.
Emptiness of mind; inanity.
A crystal defect caused by the absence of an atom, ion, or molecule in a crystal lattice.
Archaic A period of leisure; idleness.
---
vacancy
Noun
(plural vacancies)
An unoccupied position or job.
An available room in a hotel; guest house, etc.
Empty space.
Lack of intelligence or understanding.
Origin
From vac(ant) +"Ž -ancy.
---