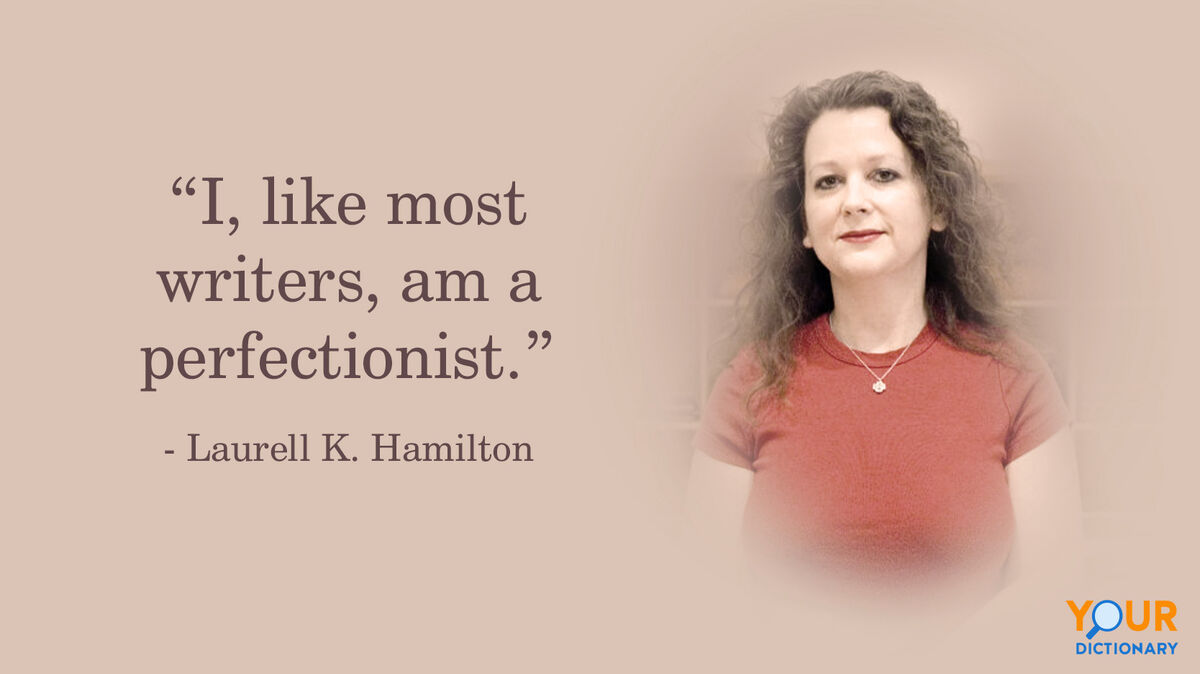 Laurell K. Hamilton is a bestselling American fantasy and romance writer who masterfully merges the genres in her Anita Blake and Merry Gentry series. In addition to writing not one but two wildly popular series, her books were also instrumental in the development of the urban fantasy genre. When she's not busy hunting vampires or solving crimes (at least on paper), she divulges the details of her writing process and empowers others to write their truth.

Quotes From the Anita Blake Series
Anita Blake is a supernatural consultant based in St. Louis who takes on zombies, vampires and necromancers — oh my! The series kicked off with Guilty Pleasures in 1993 and is still going strong today. Over the course of nearly 30 novels and counting (not to mention the short stories!), there have been many eye-catching quotes.

"I talk to myself every once in a while. Give myself very good advice. Sometimes I even take it." - Guilty Pleasures

"Most hatred is based on fear, one way or another. Yeah. I wrapped myself in anger, with a dash of hate, and at the bottom of it all was an icy center of pure terror." - Guilty Pleasures

"You can't save everybody. In fact, there are days when I think you can't save anyone. Each person has to save himself first, then you can move in and help. I have found this philosophy does not work during a gun battle, or a knife fight either. Outside of that it works just fine." - Guilty Pleasures

"​​Stupidity isn't punishable by death. If it was, there would be a hell of a population drop." - The Laughing Corpse

"Pretend hard enough and maybe it will go away." - The Laughing Corpse

"'Can the sarcasm,' he said. 'Please, I always use fresh sarcasm, never canned.'" - Circus of the Damned

"Never trust people who smile constantly. They're either selling something or not very bright."- Burnt Offerings

"Love sucks. Sometimes it feels good. Sometimes it's just another way to bleed." - Blue Moon

"Neither love nor evil conquers all, but evil cheats more." - Cerulean Sins

"Never argue when you're winning."- Cerulean Sins

"Giving up something that no longer serves a purpose, or protects you, or helps you, isn't giving up at all, it's growing up." - Incubus Dreams

"There's no one so self-righteous as someone policing someone else's morality." - Incubus Dreams

"You ask yourself 'What is love? Am I in love?', when what you should be asking is, 'What is not love?', ma petite. What is it that this man does for you that is not done out of love?" - Incubus Dreams

"Friends don't count the cost of favors." - Danse Macabre

"Still it might be nice, once in a while, not to have to choose between evils. Just once, couldn't I choose the lesser good?"- Danse Macabre

"Before I knew you, I thought brave was not being afraid. You've taught me that bravery is being terrified and doing it anyway." - Blood Noir
Quotes From the Merry Gentry Series
Hamilton's second urban fantasy series, Merry Gentry, kicked off in 2000 and to date there are nine quotable books in the series. Meredith "Merry" Gentry is everyone's favorite faerie princess turned private investigator in a world where faeries co-exist with humans.

"Love is too precious to be ashamed of." - A Stroke of Midnight

"You cannot die of grief, though it feels as if you can. A heart does not actually break, though sometimes your chest aches as if it is breaking. Grief dims with time. It is the way of things. There comes a day when you smile again, and you feel like a traitor." - A Stroke of Midnight

"That feeling of terrible emptiness when I touched him was like going into a house that you thought would be full of people you loved, only to find it empty, and even the furniture taken." - A Stroke of Midnight

"A flower may be beautiful all on its own, but a person is never truly beautiful unless someone's eyes show him that he is beautiful." - A Stroke of Midnight

"There are wounds that never show on the body that are deeper and more hurtful than anything that bleeds." - Mistral's Kiss
Laurell K. Hamilton Quotes on Writing
Like any good writer, Laurell K. Hamilton has a process. She frequently shares this process on her official blog and interacts with her fanbase online.

"I, like most writers, am a perfectionist." - "Writing the First Novel and Writing the Twenty-Ninth"

"I write fiction to help me make sense of the world and to share a good story, so that as you read my books you can forget the news headlines for a few hours." - "This Is Why I Write"

"My best advice about writing is – write." - "My Three Best Pieces of Writing Advice"

"People treat writing as if it doesn't require as much practice and dedication to craft as other things; why? I believe it's because anyone can write. Anyone can sit down with a piece of paper and a pen and write. Anyone can sit down at a computer and type. The physicality of it is available to everyone who is literate and can read." - "My Three Best Pieces of Writing Advice"

"We're artists, of course we don't follow directions!... When it comes to trying fit in, some of us are not supposed to fit in, we're supposed to stand out. Or hide in the corner making notes and watching everybody else." - Pike's Peak WC Keynote Speech
Whether you're quoting the old masters or current bestsellers, you're sure to find a quote that will speak to your bookish heart.