potential

po·ten·tial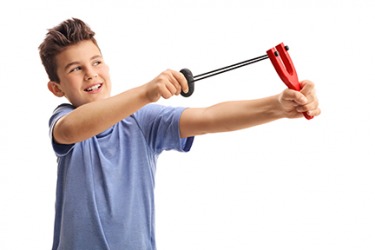 The slingshot is an example of potential energy.
adjective
The definition of potential is having the power or being capable of happening.

An example of potential is dinner plans that are not yet definite.
noun
Potential is defined as the possibility of becoming something.

An example of potential is the highest grades of which a particular student is capable.
---
potential
that has power; potent
that can, but has not yet, come into being; possible; latent; unrealized; undeveloped

Gram.

expressing possibility, capability, power, etc.: the potential mood
Origin of potential
Middle English
potenciall
from Medieval Latin
potentialis
from Classical Latin
potentia:
see potent
something potential; a potentiality
capacity for future success; promise

Elec.

the difference in voltage between two points in an electric circuit or field

Gram.

the potential mood or aspect
a construction or form in this mood or aspect

Physics

a function whose mathematical derivative is a physical field, as a force or an electric or magnetic field
---
potential
adjective
Capable of being but not yet in existence; latent or undeveloped: a potential problem; a substance with many potential uses.
Grammar Of, relating to, or being a verbal construction with auxiliaries such as may or can; for example, it may snow.
noun
The inherent ability or capacity for growth, development, or future success: an investment with a lot of potential; a singer who has the potential to become a major star.
The possibility that something might happen or result from given conditions: a tense situation with the potential to turn into a riot; farming practices that increase the potential for the erosion of topsoil.
Physics
Grammar A potential verb form.
Origin of potential
Middle English
potencial
from
Old French
potenciel
from
Late Latin
potentiālis
powerful
from
Latin
potentia
power
from
potēns
potent-
present participle of
posse
to be able
; see
potent
.
Related Forms:
---
potential

---
potential - Computer Definition

The work required to bring a unit of positive electric charge from a reference point (as at infinity) to a specified point in an electric field.
Something that could happen but has not happened yet. Someone who could do something but has yet to do it, as in "He has a lot of potential." Some people never advance beyond the potential.
---