recoil

re·coil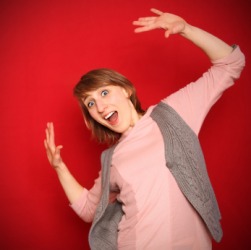 A woman recoils.
verb
To recoil is to spring back or back away.

When you jump backwards in horror away from a dead body you have just spotted, this is an example of recoil.
When a gun kicks back when fired, this is an example of recoil.
---
recoil
to draw back, fall back, or stagger back; retreat
to start or shrink back, as in fear, surprise, or disgust

to fly back when released, as a spring, or kick back when fired, as a gun
to return to or as to the starting point or source; react (on or upon)
Origin of recoil
Middle English
recoilen
from Old French
reculer
from
re-,
back +
cul
from Classical Latin
culus,
the anus, buttocks: see culet
the act of recoiling
the state of having recoiled; reaction
the distance through which a gun, spring, etc. recoils
---
recoil
intransitive verb
re·coiled, re·coil·ing, re·coils
To spring back, as upon firing.
To shrink back, as in fear or repugnance.
To fall back; return: "Violence does, in truth, recoil upon the violent" ( Arthur Conan Doyle )
noun
The backward action of a firearm upon firing.
The act or state of recoiling; reaction.
Origin of recoil
Middle English
recoilen
from
Old French
reculer
re-
re-
cul
buttocks
(
from
Latin
cūlus
; see
(s)keu-
in Indo-European roots.)
Related Forms:
---
recoil

Noun
(plural recoils)
A starting or falling back; a rebound; a shrinking.

the recoil of nature, or of the blood

The state or condition of having recoiled.
Verb
(third-person singular simple present recoils, present participle recoiling, simple past and past participle recoiled)
(intransitive, now rare) To retreat before an opponent. [from 14th c.]
Milton

Evil on itself shall back recoil.

De Quincey

The solemnity of her demeanor made it impossible [...] that we should recoil into our ordinary spirits.

To pull back, especially in disgust, horror or astonishment. [from 16th c.]

He recoiled in disgust when he saw the mess.
Origin
From Old French reculer.
---