ricochet

ric·o·chet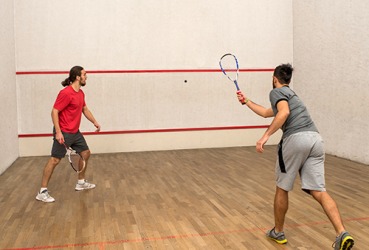 In the sport of racquetball, the ball can ricochet off all of the walls and still be in play.
noun
The definition of a ricochet is an act of bouncing off a surface.

An example of a ricochet is a rubber ball flying back after hitting a wall.
verb
Ricochet is defined as to bounce off a surface and go another direction.

An example of to ricochet is for a basketball to come flying back after hitting the backboard.
---
ricochet
the oblique rebound or skipping of a bullet, stone, etc. after striking a surface at an angle
a bullet, etc. that ricochets
Origin of ricochet
Fr; used first in
fable du ricochet
(story in which the narrator constantly evades the hearers' questions) from uncertain or unknown; perhaps
intransitive verb
-·cheted·

or

Brit.

-·chet·ted

,

-·chet·ing

or

Brit.

-·chet·ting
to make a ricochet motion
Origin of ricochet
Fr
ricocher
< the n.
---
ricochet
intransitive verb
ric·o·cheted, ric·o·chet·ing, ric·o·chets,
To rebound at least once from a surface.
noun
The act or an instance of ricocheting.
Origin of ricochet
French
from
Old French
give-and-take
---
ricochet

Noun
(plural ricochets)
(military) A method of firing a projectile so that it skips along a surface.
An instance of ricocheting; a glancing rebound.
Verb
(third-person singular simple present ricochets, present participle ricocheting or ricochetting, simple past and past participle ricocheted or ricochetted)
To rebound off something wildly in a seemingly random direction.
(military) To operate upon by ricochet firing.
---
ricochet - Computer Definition
The first high-speed wireless Internet service for commuters in the U.S. Originally developed by Metricom, Inc. and launched in 1994 at 28.8 Kbps, its speed reached a minimum of 128 Kbps in 1999. However, with some 50,000 customers in 17 cities, Metricom closed its doors in 2001. Its assets were acquired by Aerie Networks and turned into Ricochet Networks with service restored in Denver and San Diego in 2002. A year later, Ricochet was acquired by EDL Holdings, and once again in 2004 by YDI Wireless, which later became Proxim Wireless Corporation. In 2008, Ricochet was shut down. A MicroCellular Data Network (MCDN) Ricochet used approximately 100 small "microcell" radio transceivers attached to utility poles within a 20-square mile cell. Each cell had one wired access point with a frame relay connection to the Internet. Ricochet modems attached to laptops via the serial port. See CDPD.
---