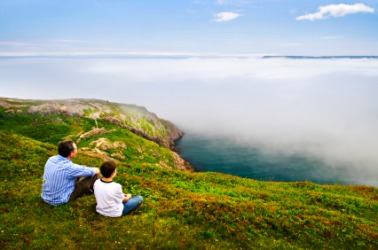 Father and son enjoy a beautiful vista.
noun
Vista is defined as a U.S. government poverty program established in 1964 where volunteers organized local poor citizens to improve their living conditions.

An example of Vista was the Rosehill project in Duplin County, North Carolina where 20 recently-graduated college students established farm cooperatives with local citizens.

The definition of a vista is a distant view seen through a opening or a place where a distant view is best seen.

An example of a vista is a river view from a cliff between two mountains.
---
vista
a view or outlook, esp. one seen through a long passage, as between rows of houses or trees
a comprehensive mental view of a series of remembered or anticipated events
Origin of vista
It, sight from past participle of
vedere,
to see from Classical Latin
videre:
see vision
VISTA
a U.S. government program established in 1964 to provide volunteers to work at improving the living conditions of persons in impoverished areas of the U.S., its possessions, and Puerto Rico
Origin of VISTA
V(olunteers) i(n) S(ervice) t(o) A(merica)
---
vista
noun
a. A distant view or prospect, especially one seen through an opening, as between rows of buildings or trees.

b. An avenue or other passage affording such a view.

An awareness of a range of time, events, or subjects; a broad mental view: "the deep and sweeping vistas these pioneering critics opened up" ( Arthur C. Danto )
Origin of vista
Italian
from feminine past participle of
vedere
to see
from
Latin
vidēre
; see
weid-
in Indo-European roots.
Related Forms:
---
vista

Noun
(plural vistas)
A site offering such a view.
---
vista - Computer Definition
(1) See Windows Vista.
(2) (VISTA) (Veterans Health Information Systems Technology Architecture) The information system that performs the daily processing in the healthcare facilities of the Department of Veterans Affairs. VISTA was introduced in 1996. See healthcare IT.
---