perspective

per·spec·tive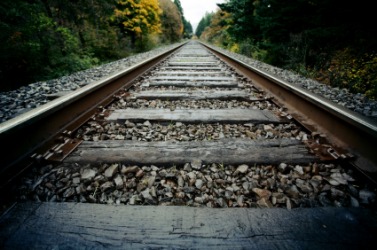 An example of one-point perspective.
noun
Perspective is the way that one looks at something. It is also an art technique that changes the distance or depth of an object on paper.

An example of perspective is farmer's opinion about a lack of rain.
An example of perspective is a painting where the railroad tracks appear to be curving into the distance.
---
perspective
of perspective
drawn in perspective
Origin of perspective
Middle English from Late Latin
perspectivus
from Classical Latin
perspicere,
to look through from
per,
through +
specere,
to look: see spy
the art of picturing objects or a scene in such a way, e.g., by converging lines (

linear perspective

), as to show them as they appear to the eye with reference to relative distance or depth

the appearance of objects or scenes as determined by their relative distance and positions
the effect of relative distance and position

the relationship or proportion of the parts of a whole, regarded from a particular standpoint or point in time

a specific point of view in understanding or judging things or events, esp. one that shows them in their true relations to one another
the ability to see things in a true relationship

a picture in perspective
a distant view; vista
Origin of perspective
ME
perspectif
< ML
(ars) perspectiva,
perspective (art)

---
perspective
noun
a. A view or vista.

b. A mental view or outlook: "It is useful occasionally to look at the past to gain a perspective on the present" ( Fabian Linden )

The appearance of objects in depth as perceived by normal binocular vision.

a. An understanding of how aspects of a subject relate to each other and to the whole: a perspective of history; a need to view the problem in the proper perspective.

b. Subjective evaluation of relative significance; a point of view: the perspective of the displaced homemaker.

c. The ability to perceive things in their actual interrelations or comparative importance: tried to keep my perspective throughout the crisis.

The technique of representing three-dimensional objects and depth relationships on a two-dimensional surface.
adjective
Of, relating to, seen, or represented in perspective.
Origin of perspective
Middle English
science of optics
(
influenced by
French
perspective
perspective
)
from
Medieval Latin
perspectīva (ars)
feminine of
perspectīvus
optical
from
perspectus
past participle of
perspicere
to inspect
per-
per-
specere
to look
; see
spek-
in Indo-European roots.
Related Forms:
per·spec′tiv·al

adjective
---
perspective

Adjective
(comparative more perspective, superlative most perspective)
of, in or relating to perspective

a perspective drawing
Origin
Middle English, attested since 1381, from Old - or Middle French, from the first word of the Medieval Latin perspectiva ars ("science of optics"), the feminine of perspectivus ("of sight, optical"), from perspectus, the past participle of perspicere ("to inspect, look through"), itself from per- ("through") + specere ("to look at"); the noun sense was influenced or mediated by Italian prospettiva, from prospetto ("prospect").
---