noun
Fawn is defined as a light yellow brown color, often used to describe the color of an animal's coat.

An example of fawn is the name of a winter coat's color in a catalog.

The definition of a fawn is a young deer, still covered in spots.

An example of a fawn is the character Bambi.
verb
To fawn means to pay extra attention to something in an overly affectionate way.

An example of to fawn is how a young girl acts towards a boy she likes.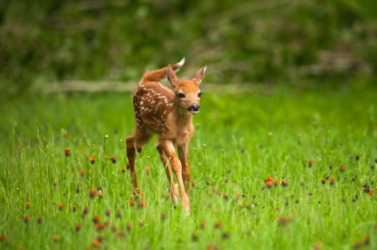 A young fawn.
---
fawn definition by Webster's New World
intransitive verb
to show friendliness by licking hands, wagging its tail, etc.: said of a dog
to try to gain favor by acting servilely; cringe and flatter: courtiers fawning on a king
to show affection in a solicitous or exaggerated way: usually with over
Origin: Middle English faunen ; from Old English fagnian ; from fagen, variant, variety of fægen: see fain
noun
a young deer less than one year old
a pale, yellowish brown
Origin: Middle English ; from Old French faon, feon ; from Late Latin an unverified form feto (gen. an unverified form fetonis), young animal, child ; from Classical Latin fetus: see fetus
intransitive verb
,
transitive verb
to bring forth (young): said of a deer
Webster's New World College Dictionary Copyright © 2010 by Wiley Publishing, Inc., Cleveland, Ohio. Used by arrangement with John Wiley & Sons, Inc.
---
fawn definition by American Heritage Dictionary
intransitive verb
fawned
,
fawn·ing
,
fawns
To exhibit affection or attempt to please, as a dog does by wagging its tail, whining, or cringing.
To seek favor or attention by flattery and obsequious behavior.
Origin: Middle English faunen, from Old English fagnian, to rejoice, from fagen, fǽgen, glad.
Related Forms:
noun
A young deer, especially one less than a year old.
A grayish yellow-brown to moderate reddish brown.
Origin: Middle English, from Old French foun, faon, feon, young animal, from Vulgar Latin *fētō, *fētōn-, from Latin fētus, offspring; see dhē(i)- in Indo-European roots.