jersey
jer·sey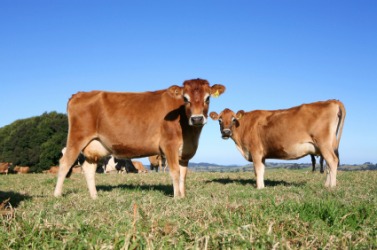 Jersey cows.
noun
The definition of jersey is an elastic knit fabric, a shirt worn by a sports team, or a type of milk cow.

An example of jersey is the material used to make a cotton t-shirt.
An example of a jersey is a New York Knicks team uniform top.
An example of a Jersey is a fawn-colored cow that makes milk rich in butterfat.
---
jersey
pl.
-·seys
a soft, elastic, knitted cloth
a closefitting pullover sweater or shirt worn by athletes, sailors, etc.
any closefitting, knitted upper garment
Origin of jersey
after Jersey: origin, originally used of worsted garments made on Jersey from locally produced wool
Jersey
pl.
-·seys
any of a breed of small dairy cattle, originally from Jersey, often light red or fawn in color: its milk has a high butterfat content
Jersey
largest of the Channel Islands of the United Kingdom, 15 mi (24 km) from the coast of France: 45 sq mi (117 sq km)
---
Jersey
The largest of the Channel Islands in the English Channel. It was annexed by the Normans in 933, and French influence has persisted since autonomy was granted in 1204.
jersey
noun
pl.
jer·seys
A soft, plain-knitted fabric used for clothing.

a. A shirt worn by an athlete, often displaying the name of the player, team, or sponsor.

b. A close-fitting knitted pullover shirt, jacket, or sweater.

often Jersey Any of a breed of fawn-colored dairy cattle developed on the island of Jersey and producing milk that is rich in butterfat.
Origin of jersey
After
Jersey
.
---
jersey
Noun
(uncountable)
A type of fabric knit
Origin
From a typical fisherman's sweater used on the island of Jersey.
Proper noun
(US, informal) New Jersey.
Origin
From Anglo-Norman Gersui, from Old Norse, compound of Geirs ("Geirr's") and ey ("island").
---