noun
The definition of cattle means a group of cows or other livestock.

The herd of cows in the field is an example of cattle.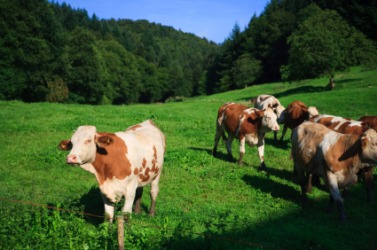 Cattle grazing in a green pasture.
---
cattle definition by Webster's New World
plural noun
Archaic

farm animals collectively; livestock
domesticated oxen collectively; esp., cows, bulls, and steers
people in the mass: a contemptuous term
Origin: Middle English and amp; Anglo-French catel (OFr chatel) ; from Midieval Latin captale, property, stock ; from Classical Latin capitalis, principal, chief ; from caput, head: origin, originally sense in variant, variety chattel
Webster's New World College Dictionary Copyright © 2010 by Wiley Publishing, Inc., Cleveland, Ohio. Used by arrangement with John Wiley & Sons, Inc.
---
cattle definition by American Heritage Dictionary
plural noun
Any of various chiefly domesticated mammals of the genus Bos, including cows, steers, bulls, and oxen, often raised for meat and dairy products.
Humans, especially when viewed contemptuously or as a mob.
Origin: Middle English catel, property, livestock, from Old North French, from Old Provençal capdal, from Medieval Latin capitāle, holdings, funds, from neuter of Latin capitālis, principal, original, from caput, head; see kaput- in Indo-European roots.