noun
The definition of cattle means a group of cows or other livestock.

The herd of cows in the field is an example of cattle.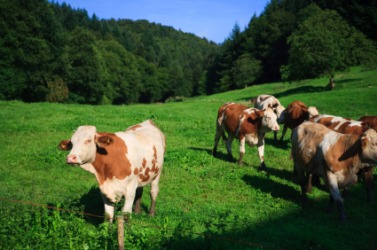 Cattle grazing in a green pasture.
---
cattle
plural noun
Archaic

farm animals collectively; livestock
domesticated oxen collectively; esp., cows, bulls, and steers
people in the mass: a contemptuous term
Origin of cattle
Middle English and amp; Anglo-French
catel
(OFr
chatel
) ; from Medieval Latin
captale
, property, stock ; from Classical Latin
capitalis
, principal, chief ; from
caput
,
head
: origin, originally sense in variant, variety chattel
---
cattle
plural noun
a. Any of various domesticated ruminant mammals of the genus Bos, including cows, steers, bulls, and oxen, often raised for meat and dairy products.

b. Any of various similar wild or domesticated bovine mammals, such as the anoa or the gaur.

Humans, especially when viewed contemptuously or as a mob.
Origin of cattle
Middle English
catel
,
property, livestock
, from Old North French, from Old Provençal
capdal
, from Medieval Latin
capitāle
,
holdings, funds
, from neuter of Latin
capitālis
,
principal, original
, from
caput
,
head
; see
kaput-
in Indo-European roots.
---
cattle
Noun
(countable and uncountable, plural cattle) (usually used as plural)
Domesticated bovine animals (cows, bulls, steers etc).

Do you want to raise cattle?

(pejorative, figuratively) People who resemble domesticated bovine animals in behavior or destiny.
1684, Records of the Colony of New Plymouth, in New England, published 1856:

1684 July. Mistris Dorothy Gray, Adminnestratrix of the Goods and Cattles of Mr Edward Gray, late of Plymouth, deceased, […]

(uncountable, rare) Used in restricted contexts to refer to the meat derived from cattle.
Usage notes
There is no singular form for "cattle", and the words for the particular types of cattle are used: "bull", "calf" etc.
There are five cows and a calf in that herd of cattle.
Where the type is unknown, "cow" is often used (although properly a cow is only an adult female).
Is that a cow in the road?
When used as an uncountable noun, the phrase "head of cattle" is used for countable quantities of cattle.
He sold 50 head of cattle last year.
However, "cattle" is often used as an ordinary plural rather than as as an uncountable noun.
I have fifteen cattle.
In some circumstances the uncountable form is not used.
How many cattle? (not how much cattle?).
Origin
From Middle English catel, from Anglo-Norman catel ("personal property"), from Old Northern French (compare French cheptel, Old French chetel, chatel, also English chattel) from Medieval Latin capitāle, from Latin capitālis ("of the head"), from caput ("head") + -alis ("-al").
---