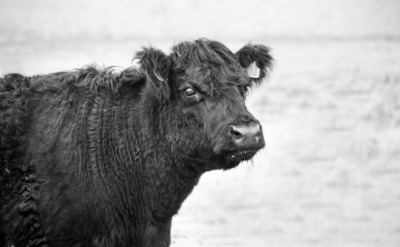 A Galloway cow.
---
Galloway
noun
any of a breed of polled beef cattle, usually black with a curly coat, resembling the Aberdeen Angus and originating in the district of Galloway
former district of SW Scotland: now part of Dumfries and Galloway
---
Galloway
A region of southwest Scotland. The Mull of Galloway, a promontory on a peninsula on its southwest coast, is the southernmost point in Scotland.
---
Galloway
Noun
(plural galloways)
A kind of small horse.
Origin
From Galloway, Scotland, where they were bred.
Proper noun
A formerly Gaelic-speaking region in the southwestern-most corner of Scotland as part of Dumfries and Galloway council area. Its capital is Kirkcudbright.
---