noun
The definition of gallows are a framework or support used for hanging people.

An example of gallows are nooses hanging from trees meant to hang people convicted of crimes.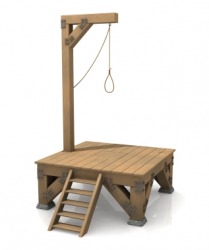 A wooden gallows.
---
gallows definition by Webster's New World
noun
pl. gallows or gallowses
an upright frame with a crossbeam and a rope, for hanging condemned persons
any structure like this, used for suspending or supporting
the death sentence by hanging
Origin: Middle English galwes, plural of galwe ; from Old English galga, akin to German galgen ; from Indo-European base an unverified form ĝhalgh-, pliant tree branch from source Lithuanian žalgà, long, thin pole: the earliest gallows was a pulled-down branch that carried the victim with it when allowed to spring up
Webster's New World College Dictionary Copyright © 2010 by Wiley Publishing, Inc., Cleveland, Ohio. Used by arrangement with John Wiley & Sons, Inc.
---
gallows definition by American Heritage Dictionary
noun
pl.
gallows
gallows
or
gal·lows·es
a. A device usually consisting of two upright posts supporting a crossbeam from which a noose is suspended and used for execution by hanging; a gallows tree.

b. A similar structure used for supporting or suspending.

Execution by hanging: a crime punishable by the gallows.
Origin: Middle English galwes, pl. of galwe, gallows, from Old English gealga, galga.
gallows
Variant of gallows
noun
pl. gallows or gallowses
an upright frame with a crossbeam and a rope, for hanging condemned persons
any structure like this, used for suspending or supporting
the death sentence by hanging
Origin: Middle English galwes, plural of galwe ; from Old English galga, akin to German galgen ; from Indo-European base an unverified form ĝhalgh-, pliant tree branch from source Lithuanian žalgà, long, thin pole: the earliest gallows was a pulled-down branch that carried the victim with it when allowed to spring up