noun
The definition of a rope is a strong and thick line made of twisted fibers.

An example of a rope is what a cowboy uses for making a lasso.
verb
Rope is defined as to connect or restrict.

An example of rope is tying multiple items together on a line.
An example of rope is to put a lasso around the neck of a horse to constrict its movement.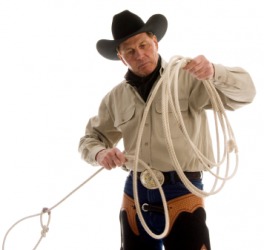 A cowboy using a rope.
---
rope definition by Webster's New World
noun
a thick, strong cord made of intertwisted strands of fiber, thin wires, leather strips, etc.
such cords strung between posts to enclose a boxing ring

such a cord, or a noose made of it, for hanging a person
death by hanging: with the

lasso
: a rope of pearls

a length, esp. a thick, flexible length, of something: a rope of taffy, a rope of hair
a ropelike string of things put together by or as by twisting, twining, braiding, or threading

a ropelike, sticky formation in a liquid, as in wine
Origin: Middle English rop ; from Old English rap, akin to German reif (Goth raip) ; from Indo-European an unverified form reip-, rag, piece of cloth ; from base an unverified form rei-, to tear from source reap, reef
transitive verb
roped, roping
to fasten, tie, or confine with or as with a rope
to connect or tie together (esp. mountain climbers) by a rope
to separate, mark off, or enclose with a rope: usually with in, off, or out
☆ to catch or throw with a lasso
intransitive verb
to become ropelike and sticky: to cook candy until it ropes
Webster's New World College Dictionary Copyright © 2010 by Wiley Publishing, Inc., Cleveland, Ohio. Used by arrangement with John Wiley & Sons, Inc.
---
rope definition by American Heritage Dictionary
noun
A flexible heavy cord of tightly intertwined hemp or other fiber.
A string of items attached in one line by or as if by twisting or braiding: a rope of onions.
A sticky glutinous formation of stringy matter in a liquid.

a. A cord with a noose at one end for hanging a person.

b. Execution or death by hanging: to die by the rope.

A lasso or lariat.
ropes Sports Several cords strung between poles to enclose a boxing or wrestling ring.
ropes Informal Specialized procedures or details: learn the ropes; know the ropes.
verb
roped
roped
,
rop·ing
,
ropes
verb
, transitive
To tie or fasten with or as if with rope.
To enclose, separate, or partition with or as if with a rope: rope off the scene of the crime.
To catch with a rope or lasso.
Informal To trick or deceive: An unscrupulous salesperson roped us into buying worthless property.
verb
, intransitive
To become like a cord or rope.
Origin: Middle English, from Old English rāp.
Related Forms:
The American Heritage® Dictionary of the English Language, 4th edition Copyright © 2010 by Houghton Mifflin Harcourt Publishing Company. Published by Houghton Mifflin Harcourt Publishing Company. All rights reserved.
---
rope - Phrases/Idioms
give someone (enough) rope
to allow someone freedom of action in the expectation that that person will overreach himself or herself
know the ropes
Informal
to be fully acquainted with the details or procedures of something
on the ropes
Boxing

knocked against the ropes

Slang

near collapse or ruin
rope in
☆
Slang
to entice or trick into doing something
the end of one's rope
the end of one's endurance, resources, etc.
on the ropes
Sports

Knocked against the ropes that enclose a boxing ring.
On the verge of defeat or collapse; hopeless or powerless.
the end of (one's) rope
The limit of one's patience, endurance, or resources:
After six months on strike, the workers were at the end of their rope.