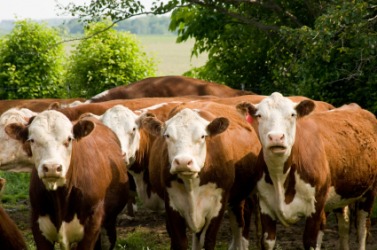 Purebred Hereford cattle.
---
Hereford
noun
any of a breed of medium-sized beef cattle developed in Hereford, having a reddish body with a white face and belly
city in Hereford and Worcester, WC England, on the Wye: county district pop. 48,000

former county of England (see Hereford and Worcester)
---
Hereford
A city of western England northwest of Gloucester. It is noted for its medieval cathedral, which was begun in the 1100s.
noun
Any of a breed of beef cattle developed in England and having a reddish coat with white face, chest, belly, and lower legs.
Origin of Hereford
After
Hereford, a former county of western England
.
Hereford2
---
Hereford
Noun
(plural Herefords)
A cow of the Hereford breed.
---