noun
The definition of beef is the flesh of a cow, bull or steer.

Hamburgers and steaks are each an example of beef.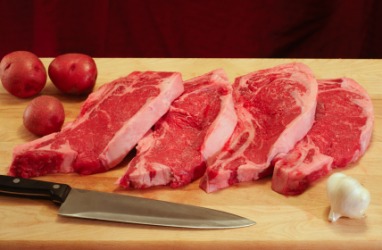 Four beef steaks on a cutting board.
---
beef definition by Webster's New World
noun
pl. beeves, beefs
a full-grown ox, cow, bull, or steer, esp. one bred and fattened for meat
meat from such an animal; specif., a whole dressed carcass
such animals collectively
☆

Informal

human flesh or muscle
strength; brawn

☆

Slang

a complaint
Origin: Middle English ; from Old French boef ; from Classical Latin bos (gen. bovis), ox (apparently an Oscan-Umbrian cognate form, replacing Classical Latin an unverified form vos) ; from Indo-European an unverified form gwōus ; from base an unverified form gwou-: see cow
intransitive verb
Slang
to complain or protest
Webster's New World College Dictionary Copyright © 2010 by Wiley Publishing, Inc., Cleveland, Ohio. Used by arrangement with John Wiley & Sons, Inc.
---
beef definition by American Heritage Dictionary
noun
pl.
beeves
beeves
or
beef
a. A full-grown steer, bull, ox, or cow, especially one intended for use as meat.

b. The flesh of a slaughtered full-grown steer, bull, ox, or cow.

Informal Human muscle; brawn.
pl. beefs beefs Slang A complaint.
intransitive verb
beefed
,
beef·ing
,
beefs
beefs
Slang
To complain.
Phrasal Verb:
beef up
Informal
To make or become greater or stronger:
beef up the defense budget.
Origin: Middle English, from Old French buef, from Latin bōs, bov-; see gwou- in Indo-European roots.
Word History:
That beef comes from cows is known to most, but the close relationship between the words
beef
and
cow
is hardly household knowledge.
Cow
comes via Middle English from Old English
cū,
which is descended from the Indo-European root
*gwou-,
also meaning "cow." This root has descendants in most of the branches of the Indo-European language family. Among those descendants is the Latin word
bōs,
"cow," whose stem form,
bov-,
eventually became the Old French word
buef,
also meaning "cow." The French nobles who ruled England after the Norman Conquest of course used French words to refer to the meats they were served, so the animal called
cū
by the Anglo-Saxon peasants was called
buef
by the French nobles when it was brought to them cooked at dinner. Thus arose the distinction between the words for animals and their meat that is also found in the English word-pairs
swine/pork, sheep/mutton,
and
deer/venison.
What is interesting about
cow/beef
is that we are in fact dealing with one and the same word, etymologically speaking.
The American Heritage® Dictionary of the English Language, 4th edition Copyright © 2010 by Houghton Mifflin Harcourt Publishing Company. Published by Houghton Mifflin Harcourt Publishing Company. All rights reserved.
---
beef - Phrases/Idioms
beef up
Informal
to strengthen by addition, reinforcement, etc.