beef

beef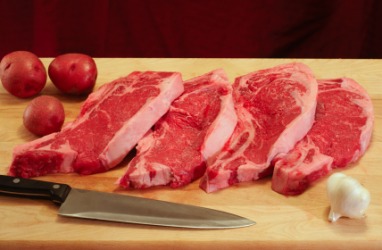 Four beef steaks on a cutting board.
noun
The definition of beef is the flesh of a cow, bull or steer.

Hamburgers and steaks are each an example of beef.
---
beef
noun
pl. for 1 & 5,

beefs

; for 1, also,

beeves
a full-grown ox, cow, bull, or steer, esp. one bred and fattened for meat
meat from such an animal; specif., a whole dressed carcass
such animals collectively

Informal

human flesh or muscle
strength; brawn

Slang

a complaint or grievance
Origin of beef
Middle English from Old French
boef
from Classical Latin
bos
(gen.
bovis
), ox (apparently an Osco-Umbrian cognate form, replacing Classical Latin an unverified form
vos
) from Indo-European an unverified form
gw?us
from base an unverified form
gwou-
: see cow
Slang
to complain or protest
beef up
Informal
to strengthen by addition, reinforcement, etc.

---
beef
noun
pl.
beeves,
or
beef
a. A full-grown steer, bull, ox, or cow, especially one intended for use as meat.

b. The flesh of a slaughtered full-grown steer, bull, ox, or cow.

Informal Human muscle; brawn.
pl. beefs Slang A complaint.
intransitive verb
beefed, beef·ing, beefs
Slang
To complain.
Phrasal Verbs:
beef up
Informal
To make or become greater or stronger:
beef up the defense budget.
Origin of beef
Middle English
from
Old French
buef
from
Latin
bōs
bov-
; see
gwou-
in Indo-European roots.
Word History:
As has often been remarked, the great social disparities of medieval European society are revealed by the Modern English words for different sorts of meat. In medieval England, meats like beef, pork, veal, and mutton were presumably more often eaten by the educated and wealthy classes—most of whom could speak French or at least admired French culture—and the Modern English terms for these meats are uniformly of French origin. (The French sources of the English words are now spelled
bœuf, porc, veau,
and
mouton,
and the French words can refer both to the animal and to the meat it provides.) The English-speaking peasants who actually raised the animals—and who presumably subsisted on mostly vegetarian fare—continued to use the original Germanic words
ox, swine, calf,
and
sheep
when talking in the barnyard, and so the animals themselves have kept their native names to this day. One such Germanic word is actually related etymologically to its French counterpart.
Cow
comes from Old English
cū,
which is descended from the Indo-European root
*gwou-,
"cow." This root has descendants in most of the branches of the Indo-European language family. Among those descendants is the Latin word
bōs,
"cow," whose stem form,
bov-,
eventually became the Old French word
buef,
the source of English
beef.
---
beef

---