cow

cow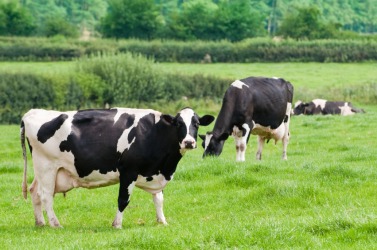 Cows grazing in a field.
noun
The definition of a cow is the female of domestic cattle and certain other mammals including whales, manatees and elephants.

An example of a cow is a Hereford that is raised for beef.
An example of a cow is a mother elephant.
---
cow
the mature female of domestic cattle (genus Bos), valued for its milk
the mature female of certain other mammals, as the buffalo, elephant, moose, whale, etc.: the male of such animals is called a bull

West, Informal

a domestic bovine animal, whether a steer, bull, cow, or calf: usually used in pl.
Origin of cow
Middle English
cou,
cow, plural
kye
(southern doubled plural
kyn
) from Old English
c?,
plural
cy
from Indo-European base an unverified form
gwou-,
cow, ox from source Sanskrit
gau?,
Classical Greek
bous,
Classical Latin
bos
, Old Irish
bo
, German
kuh
have a cow
Slang
to become very agitated or angry
to make timid and submissive by filling with fear or awe; intimidate
Origin of cow
from Old Norse
k?ga,
to subdue; meaning influenced, influence by cow, coward
---
cow
noun
The mature female of cattle of the genus Bos.
The mature female of certain other large animals, such as elephants, moose, or whales.
A domesticated bovine of either sex or any age.
Origin of cow
Middle English
cou
from
Old English
cū
; see
gwou-
in Indo-European roots.
Related Forms:
transitive verb
cowed, cow·ing, cows
To frighten or subdue with threats or a show of force. See Synonyms at
intimidate
.
Origin of cow
Probably of Scandinavian origin
Related Forms:
---
cow

Noun
(plural cows or cattle) (see usage notes)
More generally, any domestic bovine regardless of sex or age.
The female of larger species of mammal, including bovines, moose, whales, seals, hippos, rhinos, manatees, and elephants.
(derogatory, informal) A woman who is considered despicable in some way, especially one considered to be fat, lazy, ugly, argumentative, mean or spiteful.
(informal) Anything that is annoyingly difficult, awkward or graceless.

That website is a real cow to navigate.

(informal) A conniption fit or hissy fit; a state of agitation (only in the phrase have a cow).
Usage notes
The plural cows is the normal plural for multiple individuals, while cattle is used in a more collective sense. The umlaut plurals ky, kye and kine are archaic and no longer in common use.
Origin
From Middle English cou, cu, from Old English cū ("cow"), from Proto-Germanic *kūz ("cow"), from Proto-Indo-European *gʷṓws ("cow"). Cognate with Scots coo ("cow"), North Frisian ko, kø ("cow"), Eastern Frisian ku ("cow"), West Frisian ko ("cow"), Dutch koe ("cow"), Low German Koh, Koo, Kau ("cow"), German Kuh ("cow"), Swedish ko ("cow"), Norwegian ku ("cow"), Icelandic kýr ("cow"), Latin bōs ("ox, bull, cow"), Armenian կով (kov).
Verb
(third-person singular simple present cows, present participle cowing, simple past and past participle cowed)
To intimidate; to daunt the spirits or courage of. Found primarily in the passive voice.

Con artists are not cowed by the law.
Origin
Probably from Old Norse kúga ("to oppress") (whence also Danish and Norwegian kue, Swedish kuva); compare Icelandic kúfa ("to set on top").
---
cow - Computer Definition
---