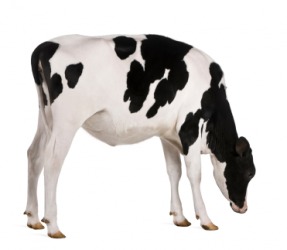 A young black and white heifer.
noun
The definition of a heifer is a young female cow that hasn't given birth to a calf.

A nine month old female cow with no offspring is an example of a heifer.
---
heifer
a young cow, esp. one that has not yet borne a calf
Origin of heifer
Middle English
haifre
from Old English
heahfore
, literally , full-grown young ox from
heah
, high, hence full-grown (see high) +
fearr
, bull, literally , young animal: see farrow
---
heifer
noun
A young cow, especially one that has not yet given birth to a calf.
Origin of heifer
Middle English
from
Old English
hēahfore
; see
perə-
1
in Indo-European roots.
---
heifer

Noun
(plural heifers)
A young female bovine (cow) that has not yet had a calf.

1611 And the LORD spake unto Moses and unto Aaron, saying, This is the ordinance of the law which the LORD hath commanded, saying, Speak unto the children of Israel, that they bring thee a red heifer without spot, wherein is no blemish, and upon which never came yoke — Numbers 19:1-2 KJV

(slang) An ugly or objectionable woman; a cow.
Origin
Middle English hayfare, hayfre, from Old English heahfore, hēahfre, compound of (1) *heag- ("mating") (compare dialectal German Hagen, Hegel ("breeding bull"), Middle Dutch haechdroese ("genitals"), Old English hagan ("id.")), from Proto-Indo-European *ḱak- ("to be able, help") (compare Sanskrit [script?] (śaknóti, "to be able"), Avestan [script?] (sak-, "to agree")) and (2) -fore (compare English elver, fieldfare, Old English sceolfor ("cormorant")).
---