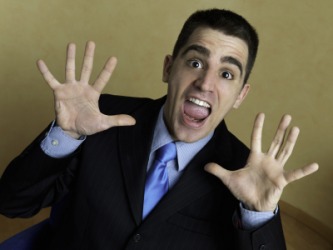 Something has scared this man.
adjective
Scare means to frighten.

An example of scare used as an adjective is the phrase "scare walk" which means a walk with ghosts, witches and other haunted beings.
noun
The definition of a scare is something frightening or a sudden panic of fear.

An example of a scare is a natural disaster.
verb
To scare is defined as to suddenly frighten or alarm someone.

An example of to scare is to jump out from behind a bush and startle someone.
---
scare
transitive verb
scared

,

scar′ing
to fill with fear or terror; esp., to frighten suddenly or startle; terrify
Origin of scare
Middle English
skerren
from Old Norse
skirra
, to scare, make timid from
skjarr
, timid, probably from Indo-European base an unverified form
(s)ker-
, to jump from source Classical Latin
scurra
, buffoon
to become frightened, esp. suddenly: a person who scares easily
a sudden fear or panic; attack of fright, often unreasonable
a state of widespread fear or panic: a war scare
Origin of scare
ME
skerre
< the v.
scare away
to drive away or off by frightening
scare up
Informal
to produce or gather quickly
---
scare
verb
scared, scar·ing, scares
verb
transitive
To strike with sudden fear; alarm. See Synonyms at
frighten
.
verb
intransitive
To become frightened: a child who scares easily.
noun
A condition or sensation of sudden fear: That mask gave me a real scare.
A general state of alarm; a panic: a bomb scare that necessitated evacuating the building.
adjective
Serving or intended to frighten people: scare stories; scare tactics.
Phrasal Verbs:
scare up
Informal
To gather or prepare with considerable effort or ingenuity:
managed to scare up some folding chairs for the unexpected crowd.
Origin of scare
Middle English
skerren, scaren
from
Old Norse
skirra
from
skjarr
timid
Related Forms:
---
scare

Noun
(plural scares)
A minor fright.

Johnny had a bad scare last night.

A cause of slight terror; something that inspires fear or dread.

JM is a scare to the capitalists of this country.
Verb
(third-person singular simple present scares, present participle scaring, simple past and past participle scared)
---