scarcely

scarce·ly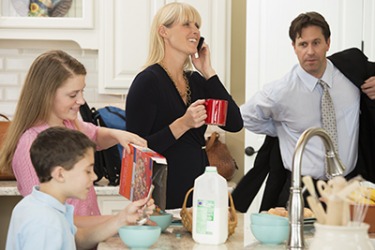 The Pattersons scarcely have enough time to connect in the morning but they always make sure to give each other a hug before they head out the door.
adverb
Scarcely is defined as shortly before or unlikely to be the case.

If you arrived and stayed only a minute before you had to leave, this is an example of when youscarcely just arrived.
If you have just enough food to feed your child but nothing extra, this is an example of when you hadscarcely enough.
If all scientists agree on something likely to be true, this is an example of when they couldscarcely be wrong.
---
scarcely
hardly; not quite; only just
probably not or certainly not: scarcely true
---
scarcely
adverb
By a small margin; barely: We scarcely made it in time.
Almost not; hardly: We scarcely ever used the reserve generator.
Certainly not: They could scarcely complain after such good treatment.
Usage Note: Scarcely has the force of a negative and is therefore regarded as incorrectly used with another negative, as in I couldn't scarcely believe it. • A clause following scarcely is properly introduced by when or before ; the use of than is usually changed by copyeditors: The meeting had scarcely begun when (or before but not than ) it was interrupted. See Usage Note at double negative. See Usage Note at hardly.
---
scarcely

Adverb
(comparative more scarcely, superlative most scarcely)
(modal) Probably not.

One could scarcely find any trout in the stream without the stocking program.

(modal) Certainly not.

One could scarcely expect the man to know how to fly a helicopter.

(degree) Almost not at all; by a small margin.
---