apprehensive
ap·pre·hen·sive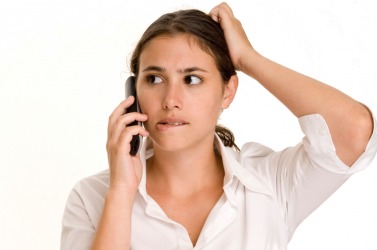 This woman appears apprehensive.
adjective
The definition of apprehensive is a person who is upset or worried about some future event or about the possibility that something will happen.

If you have a premonition that something bad is going to happen and that makes you very concerned and nervous, that is an example of being apprehensive.
---
apprehensive
able or quick to apprehend or understand
having to do with perceiving or understanding
anxious or fearful about the future; uneasy
Origin of apprehensive
Middle English from Medieval Latin
apprehensivus
from past participle of Classical Latin
apprehendere
, apprehend
---
apprehensive
adjective
Anxious or fearful about the future; uneasy: was apprehensive before the surgery.
Archaic Capable of understanding and quick to apprehend.
Related Forms:
ap′pre·hen′sive·ly

adverb
ap′pre·hen′sive·ness

noun
---
apprehensive

Adjective
(comparative more apprehensive, superlative most apprehensive)
Perceptive; quick to learn; intelligent; capable of grasping with the mind or intellect.
---