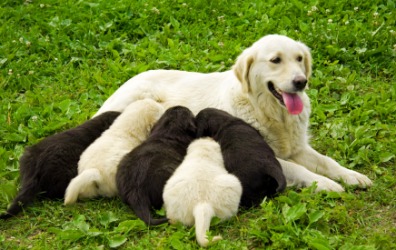 A bitch with her puppies.
noun
The definition of a bitch is a female dog.

An example of bitch is a dog that gives birth to puppies.

Bitch is defined as a slang word for a mean or aggressive woman.

An example of bitch is a woman who slaps another woman for no reason.

Bitch means something that is a unpleasant or difficult to do.

An example of bitch is loading manure on to a truck.
---
bitch
the female of the dog, wolf, fox, etc.

Archaic

a lewd or promiscuous woman

Slang

a woman regarded as malicious, bad-tempered, or aggressive: a term of contempt

Slang

anything especially unpleasant or difficult

Slang

a complaint
Origin of bitch
Middle English
bicche
from Old English
bicce
; akin to Old Norse
bikkja
Origin of bitch

? infl. by botch to bungle: usually with up
to behave spitefully or angrily toward
---
bitch
noun
A female canine animal, especially a dog.
Offensive A woman considered to be mean, overbearing, or contemptible.
Vulgar Slang

a. A prostitute considered in relation to a pimp.

b. A person in a subservient sexual role, especially an incarcerated male who provides sex to another male under threat of violence or in exchange for protection.

c. A person who is submissive to another, usually by performing menial or unpleasant tasks.

d. A man considered to be weak or contemptible.

Slang A complaint.
Slang Something very unpleasant or difficult: Fixing the faucet turned out to be a bitch.
verb
bitched, bitch·ing, bitch·es
Slang
verb
intransitive
To complain; grumble.
verb
transitive
To botch; bungle. Often used with up.
Phrasal Verbs:
bitch out
Slang
To reprimand loudly or harshly.
Origin of bitch
Middle English
bicche
from
Old English
bicce
---
bitch

Noun
(plural bitches)
A female dog or other canine. In particular one who has recently had puppies.

My bitch just had puppies: they're so cute!

(vulgar, offensive) A despicable or disagreeable, aggressive person, often female. [from the 15th c]

Ann gossiped about me and mocked my work; sometimes she can be a real bitch!

(vulgar, offensive) A submissive person, often female, who does what others want; a slave. [from the 20th c]

Dude, don't be such a bitch. Assert yourself.
Do you have to ask your man before you do everything? You must be the bitch in the relationship.

(humorous, colloquial, used with a possessive pronoun) Friend. [from the 20th c]

What's up, my bitch?
How my bitches been doin'?

(colloquial) A complaint, especially when the complaint is unjustified.
(colloquial, usually only used in the singular) A difficult or confounding problem.

Level 5 was a real bitch, don't you think?
That's a bitch of a question.

(figuratively) Something unforgiving and unpleasant.

Karma's a bitch.
Verb
(third-person singular simple present bitches, present participle bitching, simple past and past participle bitched)
To criticize spitefully, often for the sake of complaining rather than in order to have the problem corrected.

All you ever do is bitch about the food I cook for you!
Origin
From Middle English biche, bicche, from Old English biċċe, from Proto-Germanic *bikjǭ (compare Norwegian bikkja ("dog"), Old Danish bikke), from *bikjaną ("to thrust, attack") (compare Old Norse bikkja ("plunge into water"), Dutch bikken ("to hack")). More at bicker.
---