verb
To bicker is to squabble or fight, especially about something minor in importance.

Having a fight about who is taller is an example of a time when you bicker.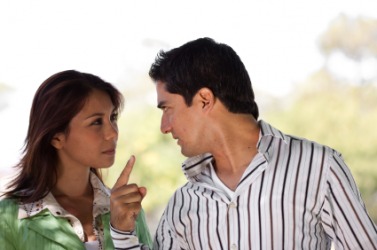 A bickering couple.
---
bicker definition by Webster's New World
intransitive verb
to have a petty quarrel; squabble
to move with quick, rippling noises: a bickering brook
to flicker, twinkle, etc.
Origin: Middle English bikeren, uncertain or unknown; perhaps akin to Frisian bikkern, hack, gnaw
noun
a petty quarrel
a rippling or pattering sound
Webster's New World College Dictionary Copyright © 2010 by Wiley Publishing, Inc., Cleveland, Ohio. Used by arrangement with John Wiley & Sons, Inc.
---
bicker definition by American Heritage Dictionary
intransitive verb
bick·ered
,
bick·er·ing
,
bick·ers
To engage in a petty, bad-tempered quarrel; squabble. See Synonyms at argue.
To flicker; quiver: "and bicker like a flame" (Robert Browning).
noun
A petty quarrel; a squabble.
Origin: Middle English bikeren, to attack.
Related Forms: