skirmish

skir·mish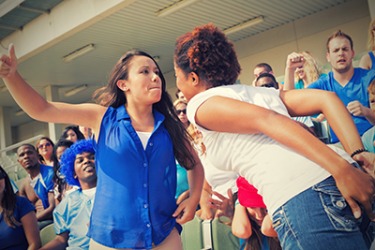 There was a skirmish between two moms in the bleachers at the football game.
noun
The definition of a skirmish is a short argument or brief period of fighting.

When two people have a brief argument, this is an example of a skirmish.
verb
Skirmish is to get involved in a short little argument or fight.

When you get involved in a little fight, this is an example of a time when you skirmish.
---
skirmish
a brief fight or encounter between small groups, usually an incident of a battle
any slight, unimportant conflict; brush
Origin of skirmish
Middle English
scarmoch
from Middle French
escharmuche
from Italian
scaramuccia
from
schermire
, to fight from Gmc, as in Old High German an unverified form
skirmjan
, to protect from
skirm
, a guard: see screen
to take part in a skirmish
Origin of skirmish
ME
scarmishen
---
skirmish
noun
A minor battle in war, as one between small forces or between large forces avoiding direct conflict.
A minor or preliminary conflict or dispute: a skirmish over the rules before the debate began.
intransitive verb
skir·mished, skir·mish·ing, skir·mish·es
To engage in a minor battle or dispute.
Origin of skirmish
Middle English
skirmisshe
alteration
(
influenced by
Middle English
skirmisshen
to brandish a weapon
)
of
skarmush
from
Old French
eskarmouch
from
Old Italian
scaramuccia
of Germanic origin
; see
sker-
1
in Indo-European roots.
Related Forms:
---
skirmish

Noun
(plural skirmishes)
(figuratively) By extension, any minor dispute.
Verb
(third-person singular simple present skirmishes, present participle skirmishing, simple past and past participle skirmished)
To engage in a minor battle or dispute
Origin
From Old French escarmouche ("skirmish"), from Italian scaramuccia, earlier schermugio.
---