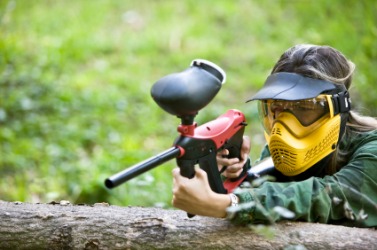 A paintball player.
---
paintball
☆
noun
any of various games in which players, simulating combat, use air guns to shoot pellets filled with colored gel at each other
---
paintball
noun
A game in which players on one team seek to eliminate those on an opposing team by marking them with a water-soluble dye shot in capsules from air guns.
The dye-filled gelatinous capsule shot from guns in this game.
---
paintball
Noun
(countable and uncountable, plural paintballs)
(uncountable) A sport where teams shoot each other with gelatin capsules filled with paint-like dye.
(countable) The dye-filled capsule fired in the sport of paintball.
Verb
(third-person singular simple present paintballs, present participle paintballing, simple past and past participle paintballed)
To engage in the sport of paintball.
To shoot someone using a paintball gun.
---