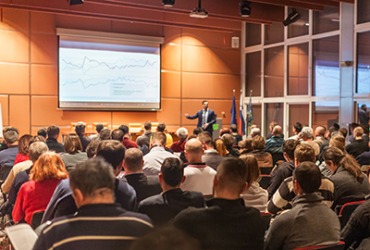 People attending a seminar.
noun
The definition of a seminar is a class at a college or university, or is a formal meeting where discussion takes place.

A writing class where you attend and get feedback on your work is an example of a seminar.
---
seminar
a group of supervised students doing research or advanced study, as at a university

a course for such a group, or any of its sessions
the room where the group meets

any similar group discussion
Origin of seminar
German from Classical Latin
seminarium
: see seminary
---
seminar
noun
a. A course of study for a small group of students in a college or graduate school, often entailing research under the guidance of a professor.

b. The group of students in such a course.

c. A scheduled meeting of such a group.

A meeting for an exchange of ideas; a conference.
Origin of seminar
German
from
Latin
sēminārium
seed plot
; see
seminary
.
---
seminar

---