pantomime

pan·to·mime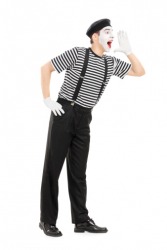 A pantomime making a gesture.
noun
Pantomime is a specific type of entertainment where people make elaborate gestures without words to express themselves.

An example of pantomime is an actor knocking into the air, pretending to be knocking on a door.
---
pantomime
in ancient Rome

an actor who played his part by gestures and action without words
a drama played in action and gestures to the accompaniment of music or of words sung by a chorus

any dramatic presentation played without words, using only action and gestures
the art of acting in this way

action or gestures without words as a means of expression
in England, a type of entertainment presented at Christmastime, ending in a harlequinade
Origin of pantomime
Classical Latin
pantomimus
from Classical Greek
pantomimos
from
pantos
(see panto-) +
mimos,
a mimic, actor
transitive verb
intransitive verb
-·mimed·

,

-·mim·ing
to express or act in pantomime
---
pantomime
noun
Communication by means of gesture and facial expression: Some tourists make themselves understood abroad by pantomime.

a. The telling of a story without words, by means of bodily movements, gestures, and facial expressions.

b. A play, dance, or other theatrical performance characterized by such wordless storytelling.

c. An ancient Roman theatrical performance in which one actor played all the parts by means of gesture and movement, accompanied by a narrative chorus.

d. A player in such a performance.

A traditional British Christmas entertainment for children, usually based on nursery tales and featuring stock characters in costume who sing, dance, and perform skits.
verb
pan·to·mimed, pan·to·mim·ing, pan·to·mimes
verb
transitive
To represent or express by pantomime: pantomime a story on the stage; pantomimed "baby" by cradling an imaginary infant.
verb
intransitive
To express oneself in pantomime.
Origin of pantomime
Latin
pantomīmus
a pantomimic actor
from
Greek
pantomīmos
panto-
all
(
from
pās
pant-
; see
pan-
. )
mīmos
mime
Related Forms:
---
pantomime

---