silent

si·lent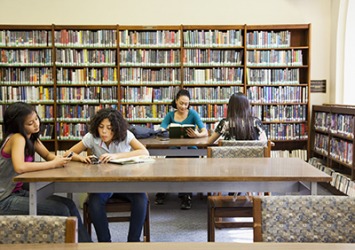 People should try to be silent or speak very quietly while in a library.
adjective
The definition of silent is making no noise or not talking.

A person who rarely talks is an example of someone who is the strong, silent type.
A movie that doesn't have any sound is an example of a silent movie.
---
silent
making no vocal sound; not speaking; speechless; mute
seldom speaking; saying little; not talkative
free from, or not making, sound or noise; quiet; still; noiseless

not spoken, uttered, or expressed: silent longing
included in the spelling of a word but with no part of the word's pronunciation corresponding directly to it: said of a letter or group of letters: silent b in "debt" and gh in "thought"

withholding knowledge or omitting mention; uncommunicative
not active: factories silent for months
designating or of films without a synchronized soundtrack
not having noticeable symptoms: a silent heart attack
Origin of silent
Classical Latin
silens
from present participle of
silere
, to be silent, still, probably from Indo-European base an unverified form
s?(i)-
, an unverified form
s?-
, to rest from source seed, side, Gothic (
ana)silan
, to cease (of the wind)
[pl.] silent films: often preceded by the
---
silent
adjective
Marked by absence of noise or sound; still: the silent forest. See Synonyms at quiet.

a. Not inclined to speak; not talkative: He's the strong, silent type.

b. Not speaking or refraining from speech: Do be silent.

c. Not saying anything about a particular matter; making no mention: The poem is silent on the reason for the speaker's sadness.

a. Not voiced or expressed; unspoken: a silent curse; silent consent.

b. Having no spoken dialogue and usually no soundtrack. Used of a film.

Linguistics Having no phonetic value; unpronounced: the silent b in subtle.
Inactive; quiescent: a silent volcano.
Producing no detectable signs or symptoms: a silent heart attack.
noun
A silent movie.
Origin of silent
Latin
silēns
silent-
present participle of
silēre
to be silent
Related Forms:
---
silent

---