simultaneous
si·mul·ta·ne·ous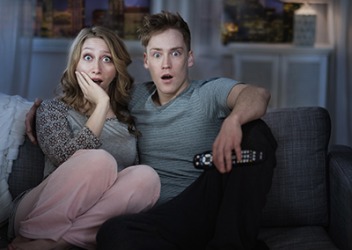 Ashley and Jack experienced a simultaneous reaction of shock while watching the season finale of their favorite TV show.
adjective
The definition of simultaneous is things that are going on at the same time.

When two television shows are on different channels at the same time, this is an example of a situation where the shows are simultaneous.
---
simultaneous
occurring, done, existing, etc. together or at the same time
Origin of simultaneous
Medieval Latin
simultaneus
from
simultas
, simultaneity from L, competition, rivalry from
simul
: see same
---
simultaneous
adjective
Happening, existing, or done at the same time. See Synonyms at contemporary.
Mathematics Containing variables for which there are values that can satisfy all the equations: simultaneous equations.
Origin of simultaneous
Latin
simul
at the same time
; see
sem-
1
in Indo-European roots.English
-taneous
(as in
instantaneous
)
Related Forms:
si′mul·ta′ne·ous·ly

adverb
si′mul·ta′ne·ous·ness si′mul·ta·ne′i·ty

noun
---
simultaneous

---