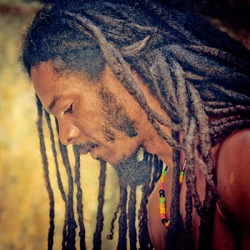 The Rastafarian does not cut his hair because that is part of his belief.
noun
The definition of Rastafarian is a person belonging to a religious sect originated in Jamaica that believes Haile Selassie was a divine savior and that Ethiopia is Eden.

An example of a Rastafarian is reggae musician Peter Tosh.
---
Rastafarian
a member of a Jamaican religious sect which holds that Haile Selassie was divine and a savior, that Ethiopia is Eden, and that blacks will eventually be repatriated to Africa
Origin of Rastafarian
from
Ras Tafari,
earlier name of Haile Selassie
---
Rastafarian
noun
An adherent of Rastafarianism.
adjective
Of or relating to Rastafarianism or its adherents.
---