noun
The definition of innocence is the state of being free from wrongdoing or corruption, or naive.

An example of innocence is someone who did not do something illegal.
An example of innocence is a small child who has done nothing wrong.
YourDictionary definition and usage example. Copyright © 2013 by LoveToKnow Corp.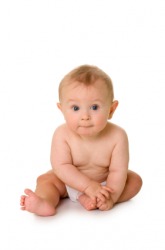 The picture of innocence.
Licensed from iStockPhoto
---
noun
the quality or state of being innocent; specif.,

freedom from sin or moral wrong
freedom from legal guilt
freedom from guile or cunning; simplicity
lack of sophistication; naiveté
harmlessness
ignorance

Archaic

an innocent person
☆ bluet
Origin: OFr from Classical Latin innocentia
Webster's New World College Dictionary
Copyright © 2010 by Wiley Publishing, Inc., Cleveland, Ohio.
Used by arrangement with John Wiley & Sons, Inc.
---
noun
The state, quality, or virtue of being innocent, as:

a. Freedom from sin, moral wrong, or guilt through lack of knowledge of evil.

b. Guiltlessness of a specific legal crime or offense.

c. Freedom from guile, cunning, or deceit; simplicity or artlessness.

d. Lack of worldliness or sophistication; naiveté.

e. Lack of knowledge or understanding; ignorance.

f. Freedom from harmfulness; inoffensiveness.

One that is innocent.
Botany See blue-eyed Mary.
The American Heritage® Dictionary of the English Language
, 4th edition Copyright © 2010 by Houghton Mifflin Harcourt Publishing Company. Published by Houghton Mifflin Harcourt Publishing Company. All rights reserved.