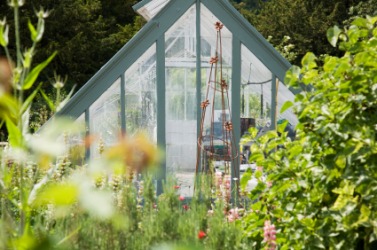 A greenhouse in an English garden.
noun
The definition of a greenhouse is a building made of glass panes in which heat and humidity can be regulated in order to grow plants.

An example of a greenhouse is where vegetables can be grown when the outside weather is below freezing.
---
greenhouse
a building made mainly of glass, in which the temperature and humidity can be regulated for the cultivation of delicate or out-of-season plants
of or contributing to the greenhouse effect: greenhouse gases
---
greenhouse
noun
A structure, primarily of glass or sheets of clear plastic, in which temperature and humidity can be controlled for the cultivation or protection of plants.
Slang A clear plastic bubble or shell covering part of an aircraft.
---
greenhouse

Noun
(plural greenhouses)
A building traditionally made of glass, but now also made from plastics such as polyethylene, in which plants are grown more rapidly than outside such a building by the action of heat from the sun, this heat being trapped inside by the glass or plastic.
Usage notes
In the UK, greenhouse is the term used domestically. Large commercial greenhouses are called glasshouses by professionals.
---