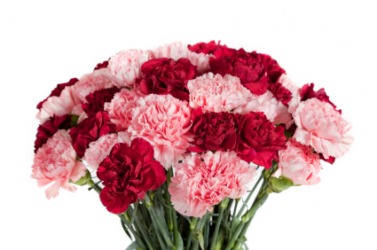 A bouquet of pink and red carnations.
---
carnation definition by Webster's New World
noun
a popular garden and greenhouse plant (Dianthus caryophyllus) of the pink family, usually with white, pink, or red double flowers that smell like cloves
the flower of this plant

a flesh-colored tint formerly used in painting
moderate to deep red
Origin: Middle French ; from Classical Latin caro, flesh (see carnal), after Old French incarnation, incarnation; sense influenced, influence by OIt carnagione, flesh-colored ; from carnaggio
Webster's New World College Dictionary Copyright © 2010 by Wiley Publishing, Inc., Cleveland, Ohio. Used by arrangement with John Wiley & Sons, Inc.
---
carnation definition by American Heritage Dictionary
noun
a. Any of numerous cultivated forms of a perennial plant (Dianthus caryophyllus) having showy, variously colored, usually double, often fragrant flowers with fringed petals.

b. A flower of this plant. Also called clove pink.

A pinkish tint once used in painting.
Origin: From obsolete French, flesh-colored, from Old French (from Old Italian carnagione, skin, complexion, from carne, flesh) or from Late Latin carnātiō, carnātiōn-, flesh, both from Latin carō, carn-; see sker-1 in Indo-European roots.